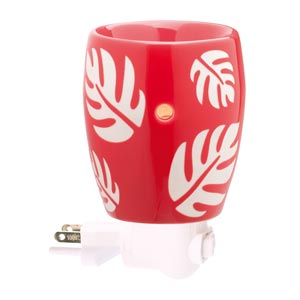 I am a huge home fragrance fan.  I love to light candles and burn natural oils in my house.  However, since having kids I've come to do it less and less because I'm so afraid of the fire hazard.  I try to keep things really high up but then of course that still scares me.
Just last week my younger brother was telling me about the building right next door to him had a fire.  I asked how it started and he said it was from a guy who left a candle burning on his coffee table.  He was home, but by the time he realized it, his whole condo was engulfed in flames.  It also damaged the condo next door.  I can't imagine what it would be like to loose your home to a fire, let alone a fire that was started by a candle.  His story confirmed to me why I have to stop lighting candles in my home.
I was happy after hearing that story to try the Scentsy plug-in system.  The system burns scented wax by the heat of a lightbulb.  I plugged it in (away from the baby's reach), and waited for the aroma to waft into my home.
The funny thing is that I told my husband that I got this new plug in, and I was so excited to try it out.  20 minutes later he sees the red color (I got it in Luau) plugged into the wall and he says "what is that"?  I just rolled my eyes and shook my head.  Anyone else have a husband who doesnt really hear them?  Then he said it smells nice.  For a man who doesn't really notice much I was really happy to hear him say that.
I got the plug-in, but Scentsy makes full and mid-size warmers.  One package of Scentsy brick has 10 little squares.  Each square lasts about 2-3 hours.
The Scentsy plug-in is the size of a large night light and has an on/off switch.  The top is concave and you just place the brick in there.  The scent squareis the size of a small ice cube.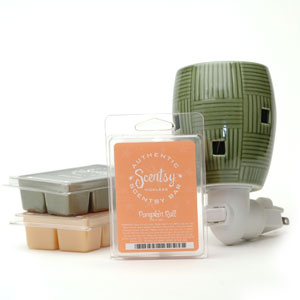 Taryn at Scentsy has generously offered one Scentsy plug-in system to give away to a Fashionably Organized reader.
To win this prize please comment below with what scent(s) you would pick.  The winner will be picked at random by random.org.  Ends Sunday June 20th at 5 PM PST.
For bonus entries:
– go to the Fashionably Organized Facebook page and "Like" me
– go to my Twitter page (@FashOrganized), and become a follower
– go to Who Needs Wicks Twitter Page (@whoneedswicks) and become a follower
– go to Twitter and post about this giveaway as many times as you would like
For each of the above, post separate comments to increase your chances of winning.
Thank you to Taryn of Scentsy sent me the plug-in and scents for review.
Comments
comments