Another Wednesday with more inspirational ideas ahead.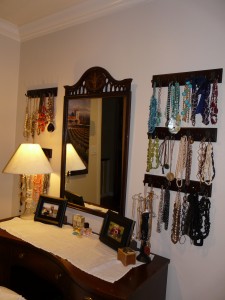 I've been trying to figure a new way to store my necklaces with hooks etc.  I've gone through many different ideas, and I can't settle on one yet.  However, I have found a lot of inspiration from Gail Grady at A Fresh Start with her post Organizing With Hooks…They Will Hook You In.  She has a ton of fantastic ideas that use different kinds of hooks.  I am in complete awe of all of the ideas, and ways you can use hooks.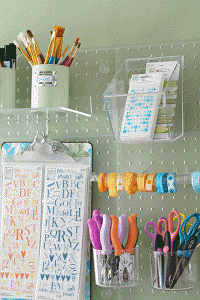 The writers of DIYIdeas have enumerated the many uses for a pegboard.  We've all seen these inexpensive board and wondered what to do with them.  I didn't even realize there were so many different pegboards in general.  I was really impressed with the clear lucite one.  I can totally see using that for holding my hand embroidery supplies.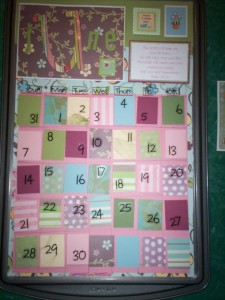 You will hear this a lot from me: HGTV is my all time favorite channel.  I watch that channel whenever I can and whenever there isn't anything else to watch.  You can count on HGTV to have something to watch.  I watch it so much that E says it's his favorite channel too.  E loves to watch House Hunters, J loves Battle on the Block and of course R likes Holmes on Homes (so does my dad).  Why am I telling you this?  Their website has a wonderful craft section.  There's even a section to upload pictures and directions from your own craft project.  It's so wonderful to see the creativity that is everywhere.  I found this cute and easy to make Cookie Sheet Calendar.  If you are a scrapper this should be super easy to make because you already have most of the supplies needed.
Comments
comments