Welcome to Wednesday DIY Organization.  This week I've decided to add fun DIY projects as well.   I just keep finding such fabulous stuff all around the blogosphere I have to share.  I hope you enjoy.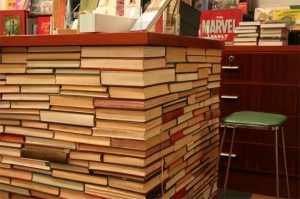 Craftzine is an incredible blog that I just love to read.  I want to make EVERYTHING they post.  When I saw the Counter Made From Books I was so enthralled.  I am a huge book lover.  Huge is an understatement to be honest.  I believe in recycling books and seeing this amazing counter completely made of books I just fell in love.  I really do wish I had somewhere to make it.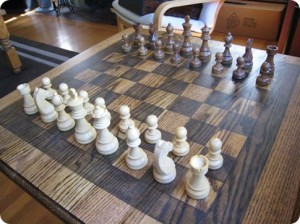 This item I am posting is in honor of my oldest son, J, who learned how to play chess this year and loves it.  I found this DIY Chess End Table on Centsational Girl while looking at another item (posted below).   He's been hanging out at my parents house this week before camp starts next week.  Yesterday R picked him up and he said that J was playing chess with my dad.  I loved hearing that.  The table is a great project, and I think I'm going to send a link to my dad to see if he'd help me make it for J.  My dad and I have made a ton of projects like this one, so it should be too hard.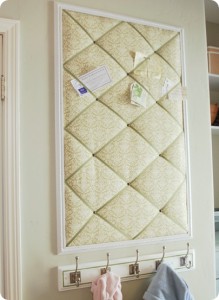 I have this weird obsession with memo boards, magnetic boards, cork boards etc.  I found another one that I have to share with you.  Like the others I post or will post I believe this is just beautiful.  The Custom Memo Board on Centsational Girl is exactly what I want to make for my entry way when we are done building the built-ins.
I hope you enjoy these projects as much as I do.  Until next Wednesday…
Comments
comments