Welcome to Wednesday DIY Organization and more.  I'm sorry I missed last Wednesday, but I'm hoping you enjoy these projects.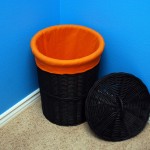 If you have a rattan laundry basket that just feels blah, Angry Julie Monday has just the answer for you in her post Painting a Rattan Laundry Hamper.  Laundry hampers might be the most important part of the bedroom.  I know you'll say the bed, but without the hamper where would you put all of your dirty clothes?  I know you could throw them on the floor, but that just disgusting.  Angry Julie's wonderful and easy to follow tutorial allows anyone to turn their rattan laundry basket into a matching piece of decor for any room.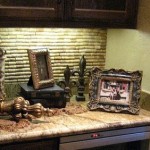 If you are a wine enthusiast such as myself, you often wonder what to do with all of the cool wine corks you pull out from the bottles.  Usually I throw them away.  I know many people who collect them.  For all of you who collect those corks Lisa at Baer Home Design has A Cool Way To Use All Of Those Wine Corks.  I loved her idea of using it as a backsplash. It can be used as a bulletin board and look fantastic.
I hope you enjoy these 2 projects, and let me know if you try them.  I'd love to see your finished project.
Comments
comments