What would be a better way to finish my back to school week, but to talk about some great bags by My Mishion?  It is Fashion Friday after all so for back to school week we'll talk about much needed bags… for mom.  Every mom needs a new bag and what better reason but the kids are going back to school.
I own three My Mishion bags.  That's how much I love Mishelle's purses.  I was introduced to her at my son's fundraiser.  I actually wore one of her bags all over the fundraiser deciding whether to buy it or not.  I opted not to.  Big mistake.  I never stopped thinking about that bag.
I had to go on my trip to New York for the BlogHer conference last month, and realized I needed a chic bag to carry everything while at the conference.  I looked high and low.  Every bag I found just wasn't it.  Then I remembered the bag that haunts my thoughts.  I went to Mishelle's site My Mishion and began perusing the vast amount of choices in purses.  Once I realized she had more pictures on Shutterfly I ventured over there only to be even more confused as to which bag to get.
I settled on the Sienna Bag in Mustard.  When it arrived to my house I quickly realized it was too small for my needs, but beautiful nonetheless.  I didn't want to break up with the bag.  I quickly e-mailed Mishelle, she was so kind and told me how she was at a nearby Artist Market every Saturday.  I  made plans with my mom and we went over there.  She mentioned in her e-mail back to me that the mustard bag I got was the LAST one she had.  Ugh I had to keep it now.  My co-worker offered to buy it from me the next day, but I couldn't let my new baby go.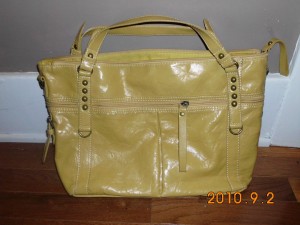 When I arrived at the Artist Market I lovingly sifted through her wonderful bags.  She had even brought some I had seen on the site so that I could decide on which one would work best for my trip.  Then my mom found my bag at the end of the rack.  We both saw it and knew it was the one.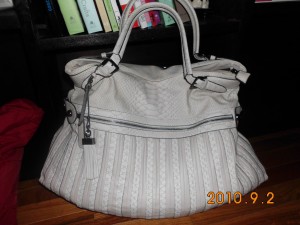 inside of the bag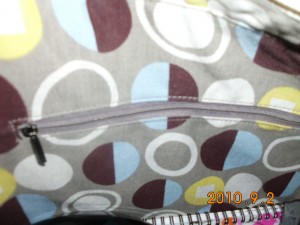 After I settled on My Mishion bag number two I spotted the Layered Bag in Kelly Green.  I had to have that one too.  You see the disease had began.  My obsession with Mishelle's bags was fierce, and I couldn't be stopped.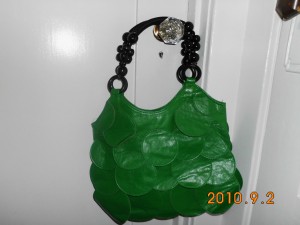 inside the bag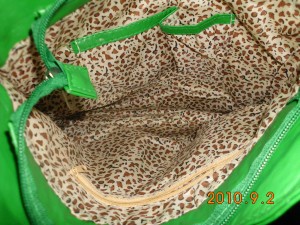 She was so wonderful to work with and so patient with me.  She even took PayPal while I was standing there.  I got on my Droid phone and went to the PayPal site and sent her money while standing next to her.  I mean can it get any better then that?  Then to add more to her fabulousness she told me that she had read my blog and thought I was a fantastic writer.  So she has gorgeous bags and is super sweet.
Now for some unbelievable details…All of the My Mishion bags are made with man made materials.  Mishelle is committed to keeping her bags eco-friendly.
Lastly, and most important: Most of her bags are $50 and under.  No I am not missing any zeros.  I cannot believe the quality of these bags for such a wonderful affordable price.
Now it's time for you to buy your back to school bag for your new schedule.  It can't be easy taking those kids to school with an old bag.
You can keep up with all of the latest from My Mishion bags by "like"ing the My Mishion Facebook page.
Want to win the beautiful My Mishion bag seen below?  Well you can by entering this giveaway.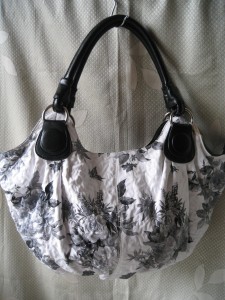 To enter simply leave a comment to this post telling me about your favorite purse on the My Mishion site.
You can get additional entries for doing one or all of the following.  Just be sure to leave a comment for each one you do.
-Follow Fashionably Organized on Twitter
-Follow My Mishion on Twitter
-subscribe to the Fashionably Organized RSS Feed by clicking on the icon in the sidebar on the right
-Follow Fashionably Organized through Google Friend Connect in the sidebar on the right
-Tweet about this giveaway by hitting the retweet button on the upper right hand corner of this post (you may do this as many times as you would like).
No compensation or product was given for this review.  The above is my own opinion swayed by no one, but my inner fashionista.  Thank you to My Mishion for providing me with the Black and White Floral Bidz bag for this giveaway.  This contest is open to US Residents only.  All entries must be made by September 13th 9 PM PST.  The winner will be chosen at random by WordPress Comment Contest.
Comments
comments