Orly Beauty Products came out with a new line of Orly Plastix Nail Polish a salute to the 80's.  As soon as I saw the colors I was in love.  I am a child of the 80's and love it when the great parts of my childhood emerge.  I was a nail polish freak as a kid, OK I still am, and I was instantly transported to the days of lace fingerless gloves and high heals with socks.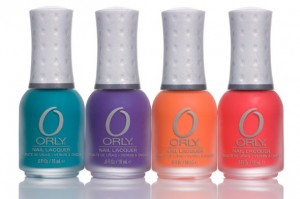 I tried them out and the colors are magnificent.  They go on rather matte, but it's really cool looking.  Of course I used a top coat so it does get shiny.
The ultimate question is how long does it last?  We always wonder that right?  The answer is I've gone 6 days so far with 1 small chip.  I think that's really good.  My toe nails are looking fantastic right now.
Did I mention I love the colors?  Although you may think they are a little bit much they are beautiful on.  I have gotten tons of compliments on my Orly Polish.
Do you want to win a package of these great nail polishes (value $15)?  Romy of Romy Raves has generously donated this great package of all of the colors (which is what I own) for a giveaway?   To enter this giveaway simply comment below with which of the four colors you like best.
This giveaway is open to US residents only.  All entries are due by September 23rd 8 PM PST.  The winner will be picked at random by WordPress Comment Contest.
Romy does great reviews of beauty products and if you want to find the mavin of beauty you must head over to her site.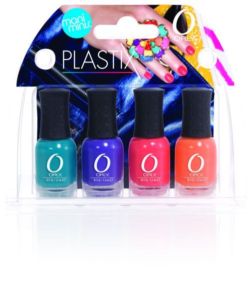 For additional entries you can do one or all of the below.  Make sure you let me know what you did by commenting for each one below:
– go to Romy Raves and sign up for her RSS feed
– sign up for Fashionably Organized RSS feed in the top left hand corner of the side bar
– follow Romy Raves on Twitter
– follow Fashionably Organized on Twitter
-Follow Fashionably Organized via Google Friend connect in the left hand sidebar
– Tweet this giveaway by pressing the retweet button in the top right hand side of the post or clicking on the Twitter button below in Share The Love.  Make sure to mention @RomyRaves
I received the entire line of Orly Plastix when attending the UnWinedHer Party hosted by
Romy Raves
at BlogHer '10.  The above review is my opinion, and was not swayed by anyone other then my inner fashionista.  Thank you to Romy for generously offering the giveaway to the Fashionably Organized readers.
Comments
comments