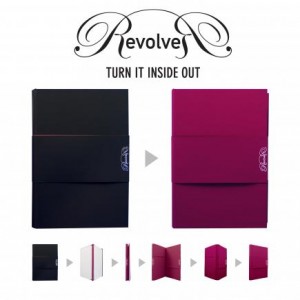 On many occasions I have discussed with you the need to always have a notebook with you.  To see more about this check out my post Take A Notebook.  As if that isn't enough I had to go on and on in Take A Notebook 2.0.
What's the point of me hounding you with another post about the importance of having a notebook with you?  I found a great notebook, and wanted to share it with you.  It's called Revolver Journal.  It's such a fantastic invention in that there are two notebooks in one.  One side is lined paper and the other is plain paper.  It's how you get to each pad that is so much fun and inventive.  You can see it below.  Please excuse my lack of make-up.
If you are in need of a great way to keep your notes check out the Buy Now Revolver Journal.
Revolver Journal supplied me with this product, but the above are my own opinions and thoughts.
Comments
comments