I went to Fashion Night Out at Saks Fifth Avenue in Beverly Hills with my beautiful sister-in-law, a fashionista in her own right.  We met up with my beauty guru Romy of RomyRaves, and we were set to hit the town.
We decided that although it was a big fashion night we would go make-upless to get our make-up done at Saks.  I mean duh right?   We carefully perused the various make-up counters and settled on Dolce & Gabbana because those ladies looked awesome.
my sister-in-law getting her make-up done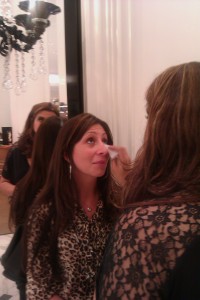 My make-up was phenominal and frankly those ladies know how to do it up.  We had a phenominal time with them and in the end I'll be honest we looked like we were ready to paint the town with our beauty. 
The funny thing is that everyone could not believe that I had never worn red lipstick.  I always thought with my super white skin why would I.  My sister-in-law, Romy and all of the make-up ladies convinced me it would look awesome.  I was curious and my wonderful make-up artist put on the Classic Cream lipstick in Fire.  It was hard to take in at first.  I couldn't believe it, but it actually looked good.  I decided to buy it, and went home to my husband who loved it too.
the results of our makeover don't we look awesome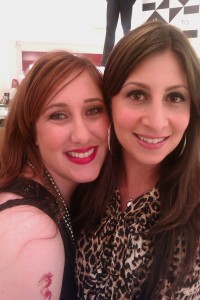 Yet again I will say it a new lipstick can brighten any day.  It's rather amazing to me how buying a lipstick feels like you just bought a whole new outfit.
I received free products with my purchase from Dolce & Gabbana.  No other compensation was received for this review.  The above are my own ideas, influenced by no one other then my inner fashionista.
Comments
comments