My crafting guru Sara of
Sara's Organized Chaos
 is here this month with a fantastic treat bag to make yourself.  Quite frankly I asked her to do this because E's birthday is in December and I wanted a creative way to do the favors for the kids.  Of course this is a wonderful way to do your Halloween treats as well.  Check out her fantastic easy tutorial, and of course enjoy.  Thanks Sara!
Halloween is right around the corner and if you're like me- you have kids who want to bring treats to their classrooms. And while it's fine to use a generic treat bag….why not show off a bit? Everyone wants to be "that mom" who looks like she spends a lot of time on fabulous favors when in reality…you only spent an hour?
These favors are my favorites for two reason: 1. They are easy. I can do these while watching Jersey Shore (don't judge) and they require very little brain activity. 2. They require me to eat my most favorite thing…French fries.
That's right! You need a French fry box for this craft! And I bet if you asked your local fast food restaurant for a box they'll give you one if you really don't want to eat the fries. What's also awesome about these is that you can do a multitude of sizes…depending on the size of your fry box. I'm using a box from my local Wendy's. When selecting a box look for one you can take apart easily…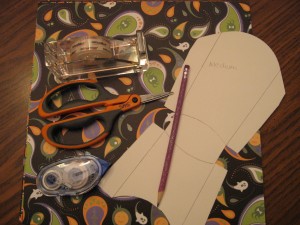 1 fry box to use as a template
1 – 12×12 piece of paper (my box was a "medium" size so I was able to get two boxes out of one sheet
Adhesive
Candy and goodies to put into bag
Optional
Ribbon, embellishments, clear tape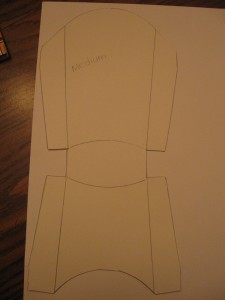 Take your fry box apart and trace that onto a piece of heavy cardstock (or use a cereal box). This isn't really necessary, but I have re-used my template a lot so if you think you might want to do that then do this step. Cut your template out. You'll notice on mine I drew the lines (using my ruler) where the folds are. This will make your life easier later.
Then you'll want to trace your template on the BACK of your paper. You can use cardstock but in my case I'm using a Halloween theme paper.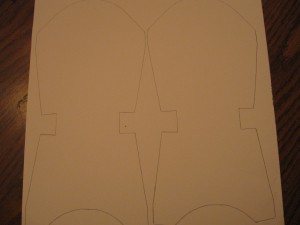 Step Two:
Cut your patterns out as closely to the line as you can.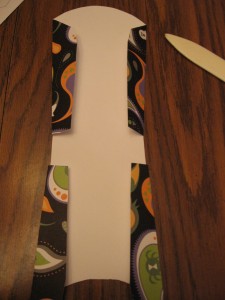 Now you are going to fold your sides in. What worked easiest for me is if I scored the edges. In my case I put my ruler on the line and used a bone folder to make a dented line in my page—you could use the back of the butter knife. That just makes it easier to fold the paper but not necessary.
When it comes to folding the bottom- you have to play around a little bit to get it to look the way you want. Make sure your folds are the way you want BEFORE you put adhesive on.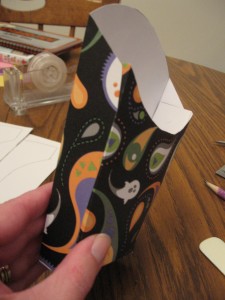 Fold your box up so you can see where you need to put adhesive. Once you do that you can also use clear tape on the outside to make it sturdier. I do this just because I make these ahead of time and sometimes regular adhesive can be a stinker and will come undone. The clear tape reinforces it—and it's clear so you won't see it.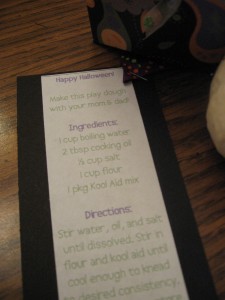 Because my box is white on the inside I wanted to put a little something extra in the back so I made this bookmark with a play dough recipe.  I typed it on my computer and printed it out then glued it to a piece of cardstock. If you want the Word template for this bookmark you can email me at [email protected] . You could use the play dough recipe, a sugar cookie recipe, or just make a bookmark with the child's name on it.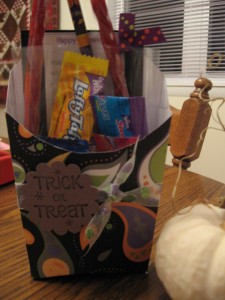 To finish my boxes off I tied some ribbon around them and used my stamp to make a quick embellishment. I have done these for birthday parties in the past so I might cut a piece of a paper and write "thanks for coming!" and glue that on. They would be a cute teacher gift for the holidays or end of year- you could put some chocolate and a gift card in there- how cute would that be?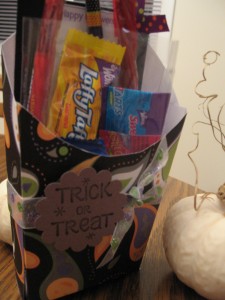 Comments
comments