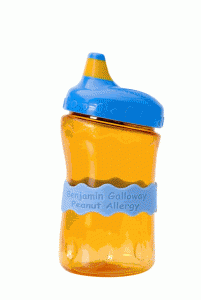 Years ago I was introduced to the Inchbug Bumpy Name Orbit Labels, and it was the light at the end of a tunnel.  With my kids needing to label for day care then pre-school and now for elementary school finding something easy to identify their items was a constant battle. 
Then I found these wonderful labels that can be moved from cup to cup.  They are indestructable, and let's face it with young children that's the absolute MUST have right?  Any cup was interchangeable from child to child because these could be removed easily.
I've had so many variations you can tell I'm a bit addicted.  I have the boys full names then I have the two liner with the boys full names and our phone number underneath.  For the baby I have her full name, no need for two liner yet. 
OK fine I'll admit I have one with my first name.  They are so great I had to have ones with my name.  My husband rolled his eyes when he saw that but too bad is all I say.
They come in a four pack, and I have to say that we've never lost one.  Can you believe that?  We actually get cups back with the Bumpy Name Orbit Labels on them.  J's teacher thanked me once for having his Klean Kanteen so easily labeled.  If you want more information on the Bumpy Name Orbit Labels they have a great informational page.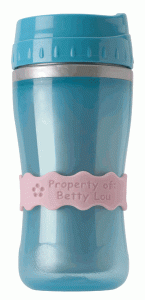 The wonderful people at Inchbug are giving one lucky Fashionably Organized reader a gift card to get one set of Bumpy Names with one or two lines, an icon and shipping.  To win this giveaway simply go to the Bumpy Names order page and tell me what color label you would order or if you would get an icon which one by commenting below.
Winner must be a US resident.  One winner will be picked via WordPress Comment Contest.  All comments must be posted by November 9th, 6 PM EST.
Would you like more ways to win this giveaway?  You can do any or all of the following and comment below with each one you do.
1. Subscribe to the Inchbug Newsletter.
2. Like InchBug on Facebook
2. Follow Fashionably Organized RSS feed by clicking on the icon in the left sidebar on the right hand side of this page.
3. Follow Fashionably Organized on twitter.
4. Follow Fashionably Organized via Google Friend Connect in the left sidebar, on the right side of this page.
5. Like Fashionably Organized on Facebook.
6. Tweet about this giveaway [as many times as you'd like] by clicking the tweet button on the top right or the sexy bookmark at the bottom of this post.
I did not receive any products or compensation for this review.  The opinion above is my own only swayed by my inner Fashionista.  Thank you to Inchbug for their generous giveaway item.
Comments
comments