Tis the season to be inundated with tons of toys you have no idea where you will store.  The panic has begun to set in.  I have 8 nights of presents from us.  Then my family, my extended family, R's family and our friends to name a few.  To add to that E's birthday is in December.  If you aren't panicked I'm panicked enough for everyone.
The only thing that is giving me some feeling of ease is the fact that I have some empty Clearly Organized Bags stored on the shelf waiting for a toy, puzzle or Lego set to store.  I got these bags years ago and their use has surpassed my wildest dreams.
To be honest the different uses for the Clearly Organized Bags are infinite.  I have recommended these bags to more friends looking for toy storage then you can imagine.  I even carry one in my work bag with all of my pens and highlighters.
Here are a few examples of how I use mine:
Large bag holding a board game: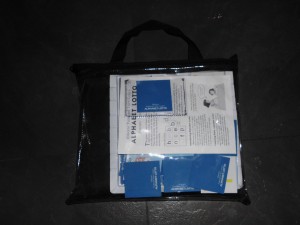 Medium bag holding a travel connect four game.  As you can see there is plenty of room and I may be moving this to a smaller bag to use this for another toy that will be invading my home.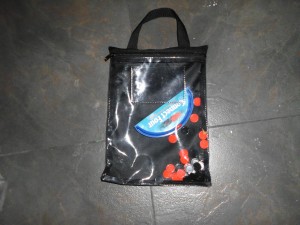 Medium holding a 48 piece puzzle.  If you do use this for a puzzle I do recommend cutting the picture of the puzzle from the box and inserting it into the bag so you/your child will know what the puzzle should look like.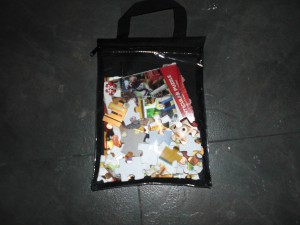 Small holding my pens, highlighters, Revolver journal for my to-do list (see my review) and receipts to turn into J's school fundraiser.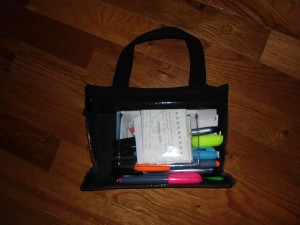 Small holding my hot glue gun and glue sticks.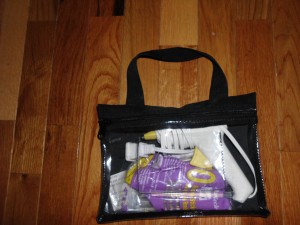 I use the Medium for J or E to take toys or coloring items with them when they go to my parents or go somewhere where they need to be entertained.  It's great because we can pack it up and they love how all of their stuff is in one place.  I can even throw it in my purse if they can't won't carry it.
The front of the bag is made with a super thick plastic.  Think grandma's couch cover thick.  The back is a super sturdy canvas.  The handle is sewn in place so no child can rip it out.  I love that the kids can see exactly what is in the bag without having to open the container and let all of the pieces fall out.
I promise you that if you get yourself a set of The Clearly Organized bags you will not be sorry, especially this time of year when storing all of the new toys can will be a pain in the you-know-what.
Comments
comments