One of my Crafting gurus has yet again sent a fantastic tutorial for my Fashionably Organized readers.  Sara of
Sara's Organized Chaos
has a pretty easy way to make a gift in a jar, like make your own cookies.  Maybe next year I'll get industrious and do this for people.
Looking for a really easy, inexpensive but great last minute gift? If you are, you need to pay attention because I will have you covered!
The first thing you need is a recipe, and this could be anything. The easiest thing for me is a cookie recipe because it has dry and wet ingredients. Obviously, you are only going to put the dry ingredients that will get mixed together at once. I am going to walk you through a recipe that is easy and you can make 3 or 4 gifts out of one bag of each ingredient!
 
Powder Puff Cookie Mix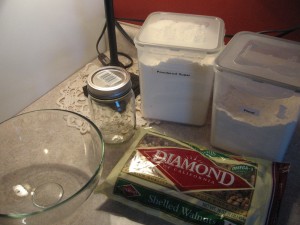 Step one: Gather your ingredients. To make this you need a jar (I use the big ones that I can get for cheap at my local craft store), all purpose flour, powder sugar, walnuts. To decorate/jazz up your jar, fabric, ribbon, scissors, recipe card, hole punch. (Insert Step One picture)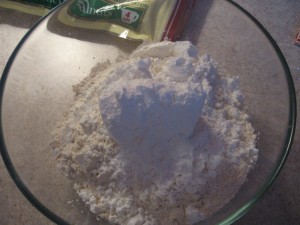 Step two: Mix 1/2 cup powder sugar and 2 1/3 cups all purpose flour into a bowl. Once you have that mixed, pour it into your glass jar. (insert step two picture)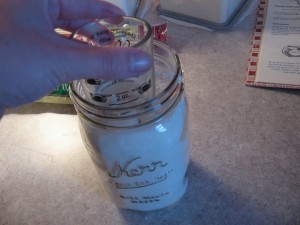 Step three: Get a shot glass (or something similar) to press the flour/sugar mixture down. This removes extra air and makes room for your walnuts. (insert step three picture)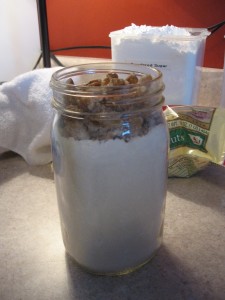 Step four: Add 1 cup of chopped walnuts. Or whatever nuts you'd prefer to have in a cookie- it's up to you. (insert step 4 picture). 
 
Step five: Now you need to write the recipe down, so the receiver knows what to do with it. I do this on the computer since it's easier. Here's the recipe:
 
Cream 3/4 cup shortening and 1/4 cup softened butter together; stir in 2 tsps vanilla extract. Blend in cookie mix. Shape dough into one inch balls and arrange on greased baking sheets. Bake at 325 degrees for 20-25 minutes; cool slightly. Place one cup powdered sugar in a small bowl; roll cookies in sugar while warm. Makes 4 dozen.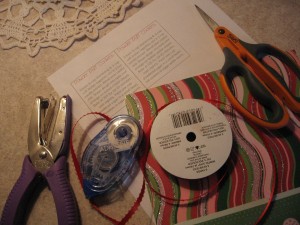 Once you have that typed up and printed off, you can adhere it to some scrapbook paper (I used a Christmas print paper), punch a hole in it, and tie around the jar.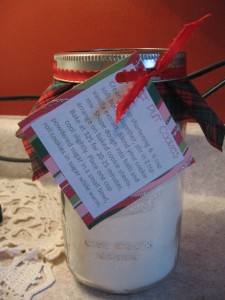 And that's it! See how easy these really are? You can do these for any occassion and with almost any recipe. If you look online or at your local library, there are a lot of cookbooks geared towards gifts in a jar, but I've used recipes I make because it's easier for me. These make perfect gifts for co-workers, neighbors, people who love to eat or bake, and are GREAT to have on hand for last minute gifts. I always keep a few empty jars on hand throughout the year because they also make great gifts for a hostess!
Comments
comments