I was having a conversation, OK not conversation but a direct message via Facebook, with another of my fashionista blogger friends today.  Amelia of Pretty In the Queen City is helping me dress myself for my trip to Las Vegas for WWDMAGIC.  Our conversation had us realizing we both had a love for the look of the 50's and then into who our fashion icons are.  Not so fast I'm not about to reveal my fashion icons to you right off the bat.
Today's post will be part 1 of a 3 part Fashion Friday revealing my 3 top fashion icons.  I will also suggest modern ways to bring those icons alive in your own wardrobe.
Without further ado #3 Icon is….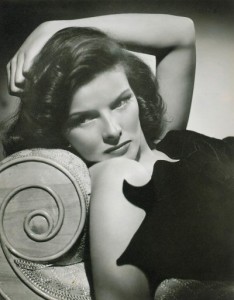 Katharine Hepburn!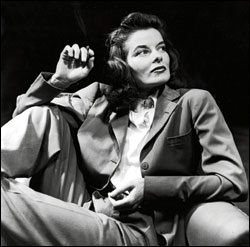 I can't discuss fashion history without bringing up Katharine Hepburn.  Katharine blurred the lines of feminine and masculine in her clothing.  No one could make wide leg pants as sexy as she could.
Not only were her clothes fantastic but her demeanor, the way she carried herself, was sexy and lady-like all at the same time.  Katharine Hepburn changed the view of a woman in big ways by getting noticed for her sexy smoldering brilliance.
Who could exude brilliance and sexiness all in one better then Katharine did?
Katharine's timeless look can be achieved with wide leg pants, a beautiful button down shirt tucked in and a pair of great flats.  Another option is a dress with a cinched waist and flowing a-line skirt.
Have any other suggestions for making Katharine Hepburn's look modern?  Leave a comment with your thoughts.
Stay tuned for next week's Fashion Friday as I reveal Fashion Icon #2.
Do you have a Fashion Friday post, or want to read more Fashion Friday posts?  Head over here to link up.
Comments
comments