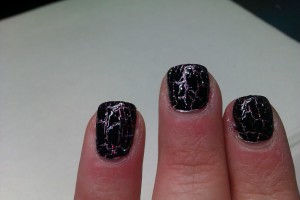 On Saturday my wonderful bloggie sister Romy of Romy Raves hosted a beauty party sponsored by Therapon.  You may remember my review of their fantastic face wash.  The party called, Face 2 Face, was all about pampering the ladies.  Each of the attendees could get either a mini mani, a mini facial or both.  We were at the ROBB Salon* and they had the new OPI Katy Perry nail polish.  As soon as I walked in I asked if they had the new Shatter and of course they did.
The wonderful manicurist, Lisa, told me to trust her because she had a great combination for me.  I told her to go with it and away we went.  Well as you see above the combination was absolutely awesome.  She first put one coat of  Not Like The Movies.  The second coat is Teenage Dream and finally Black Shatter.  I love how it came out and am absolutely going to do the exact same thing when I go to WWDMAGIC.  These nails are an absolute must when I'm in Las Vegas.
Hint by Lisa: Let the polish dry before putting the Shatter over the nail polish, the shatter effect will show up better.
*if you're ever in the Studio City area of Los Angeles go get a manicure by Lisa.
Comments
comments