Last week I was lucky enough to go to a great event hosted by the ladies of iFabbo Sinead  and Tania of Beautisol.  It was located in a magnificent space in West Hollywood, Bollare.
I'll first gush about the space. It was this interior design buffs absolute dream, gorgeous wallpaper and red crystal chandeliers. Yes I took pictures of the chandeliers (seen below).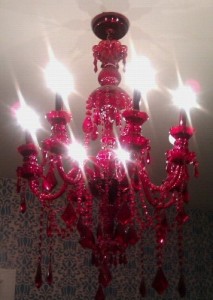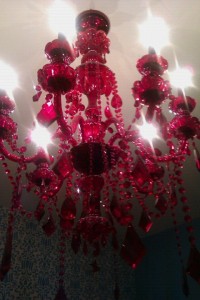 Bollare represents some fantastic fashion and accessory brands and walking into their show room was pure eye candy. Taking it all in was unbelievable.
On one rack of hangars there were about 50+ necklaces hanging there. I looked at it and wondered how could I get that in my home?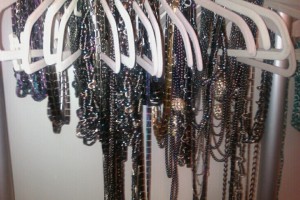 We received an amazing bag of goodies with the products below. Make sure to check my notes for the things I did already try. I will be trying a lot more in the coming weeks too.
Yonka Paris Skin Care –  Twitter handle: @YonkaUSA
OM4Men Organic Men's Skin Care Twitter handle: @OM4men
I so rarely have a beauty product for my husband, so it was fun to have something to finally give him. He was shocked and he won't admit it but he was pretty excited.
Gilt Groupe $25 gift card Twitter handle:  @giltgroupe
If you don't already belong to Gilt Group join today they have fantastic deals on wonderful brands daily. They have products for men, women and children. I've even bought books for my oldest son there.
Lalicious Body Care – Twitter handle:  @lalicious_la
Jewel Mint – Twitter handle:  @myjewelmint
Chic Canvas.com – Twitter handle:  @chiccanvas
China Glaze – Twitter handle: @chinaglaze
Stila Cosmetics– Twitter handle: @stilacosmetics
We received the special edition 24K lip gloss in golden charm that is gorgeous. My sister-in-law tried it on and immediately went to the store and bought herself one. There isn't a skin type this lipgloss does not look good on.
Jane Cosmetics -Twitter handle: @janecosmetics
The cutest little box that has eyeshadow, lip gloss and blush in it. At first I thought it was a weird cardboard cube then the sides unfolded to all of these different products.
Visine
Beautisol  – Twitter handle: @beautisol
Sinead told me that white skin like mine can handle her fantastic tanning products. I'm usually orange after a tanning product, so I'm super duper excited to try this one.
Ardell Lashes – @ardell_lashes
I think I'll be wearing these at WWDMAGIC next week.
Blue Angel Vodka – Twitter handle: @blueangelvodka
Pop Chips – Twitter handle: @popchipsla
Let us discuss the absolute goodness of these chips. If you have not tried them you are missing out. At work my co-worker Rachel and I are so obsessed we buy 4 bags a week to snack on while at our desks. Yes you read that right. The BBQ flavor and salt and vinegar are great, but the plain are just as good. Now move get to the store and get yourself a bag. NOW!
Drink Neuro – Twitter handle: @drinkneuro
North American Hemp Co -Twitter handle: @nahempco
Dermalogica – @dermalogica
I want to thank iFabbo for a Fab time and introductions to great people and great products.
If you are a fashion or beauty blogger go over to iFabbo and join this new great community of fashion and beauty bloggers. If you are a fashion or beauty brand consider joining iFabbo to meet great bloggers who want to work with you.
Comments
comments