How do you plan your time? No, I'm not asking you how do you plan it, as in where to go, but do you use a planner? Do you try to remember it in your mind? Do you write it on a dry erase board in your house? Well I recently received a life_time.mine planner from Dot Mine that I love.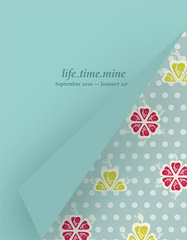 I have professed before my addiction to planners. I found another one to serve another purpose in my life, and I love it. The planner has 1 week per 2 pages, and it goes from September 2010 to January 2012.
Many of you know my husband is unemployed, but right now some attornies are calling him to do appearances. Since he's a stay at home dad  for our 2 year old, has to pick up our 5 year old at 12:45 PM and 6.5 year old at 3 PM my parents have been filling in so that he can take these jobs. We can't afford help yet so they've been doing triple duty. My dad is TERRIBLE at remembering things and we have to remind him constantly about when he is on duty, since he does the care 75% of the time, because my mom works part time as a docent at a museum.
I decided to use the Dot Mine to be our baby-sitting calendar for my parents. We leave it by the phone in the kitchen of their house and when we call we say "get the calendar" first, and then we tell them times and what we need help with. Luckily R knows in advance so when he goes to pick up A from their house he can also go in the calendar and write what's going on.
This is going to help my parents tremendously. They are going to be able to look at each week and see where we need help.
Bonuses of this great calendar:
It has a page marker so the current week is very easily found.
It has a huge pocket in the back. This is great because if my parents have to take any of the kids to their doctor appointments we can leave money in there for co-pays and parking.
Each 2 pages has a column for "work" and "life". These are great for notes to my parents about stuff they may need to know for that week about R's schedule.
The front has a place for all of the important phone numbers for the kids just in case.
I highly recommend this slim beautifully bound Dot Mine calendar if you are looking for a simple sleek design planner.
Would you like to have one of these beautiful planners? No problem Dot Mine has graciously offered to give a Fashionably Organized reader a planner of their choice (not sold at Barnes and Noble).
To enter tell me how you would use the planner in the comments below.
Rules of Engagement: The giveaway is open until March 4th 3 PM EST to US Residents only. The winner will be chosen at random, and will have 48 hours to respond once notified before a new winner is chosen.
Here are some ways to get extra entries, but make sure to post separate comments for each one you do:
Like Dot Mine Group's Facebook Page
Like Fashionably Organized's Facebook Page
Follow Dot Mine @timemine on Twitter
Follow Fashionably Organized @FashOrganized on Twitter
Subscribe to Fashionably Organized feed here or by clicking on the RSS or Feedburner icon on the scrolling bar to the right.
Retweet this post by pressing the retweet button below this post ( you may do this twice daily)
This review was made possible by
MomSpark Media
.  I was given the planner for this review.  The above review is my own opinion swayed only by my inner Fashionista.  Thank you to Dot Mine for their generous giveaway to one Fashionably Organized reader.
Comments
comments