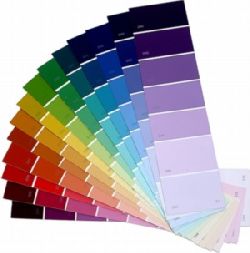 Welcome to the first Tuesday Tools, Tips & Tricks. Do you have a DIY project, some tips on doing a home project or even tricks to doing a home project? Then write a post and link up below.
When it was time to pick all of the colors for the interior paint I had no idea there were so many interior paint types. I relied on others to tell me what type I should get and in the end I realized that for this mom I needed a lot more information on what would work for a kid friendly home.
This post will hopefully help you understand different types or sheen's of paint. The basics are flat, eggshell, semi-gloss, high gloss (sometimes called kitchen and bathroom) and ceiling paint. By making many mistakes on choice of type of paint, I thought if I shared what I learned you walk walk down my path to the right paint.
Flat Paint – This paint is exactly what it sounds like. The color has no sheen and has no glass. Flat paint is virtually impossible to clean beyond cobwebs.
Eggshell – This is where things get super tricky. Let me say this first: Yes there is a paint color called eggshell. That color is a light version of off-white. The color is meant to be less harsh/bright then regular white. However, there is also a type of paint that is called eggshell. This has nothing to do with the color, this is strictly the sheen. In all actuality the name is brilliant. An egg is matte but has a very small amount of gloss. I describe it as flat with a dollop of gloss. Now this is the sheen I recommend for people with children. It's infinitely easier to clean then flat paint. Not everything just wipes off, but at least you can get crayon/marker off of the wall. Rooms I recommend: hallways, master bedroom, guest room, office, dining room and living rooms, possibly basement areas depending on the way it is used.
Semi-Gloss Paint – This paint is definitely a step-up from the Eggshell. While not a complete light reflecting prism. Semi-gloss paint definitely has a protective layer over the actual paint color. If you do not use your dining room as the main eating area then you can use eggshell, but if you do, then you need it to be semi-gloss paint. I believe that when you have children, and there is food around the walls should be highly wipe-able. In addition to food consuming areas I highly recommend that the children's bedrooms and rooms they play in be painted with semi-gloss paint.
High Gloss Paint – These paints are usually used for kitchen cabinets, moldings, bathrooms, doors and door ways. The reason to use high gloss paints in those areas is that they are 1) high use; and/or 2) subjected to a lot of water. When subjected to either of those factors a highly glossed paint allows for easy cleaning and the gloss forms a barrier that does not soak up water. When in bathrooms, this paint is very important as it repels mold. There are some brands that make separate mold resistant paint, this may be another option you veer towards in your decision for a bathroom.
Ceiling Paint – This is actually a very simple paint. It is primarily semi-gloss in finish, however the white is more saturated. If you are going to paint a color on your ceiling then a regular semi-gloss can be used. Ceiling paint is really an individual decision. However, the good thing about ceiling paint is that it covers stains and discolorations on the ceiling with less coats.
While out there thinking about sheen there is also the decision of regular paint, low VOC paint and no VOC paint. To try to explain the differences would be a book. Even I don't understand the ins and outs of all of the ramifications of using paints with VOCs. I did find this great site that helps to understand VOCs.
Leave a link to your great Tools, Tips and Tricks post below:
Comments
comments