What's a brilliant cosmetic bag? For me, it's the bag that will hold everything I carry in my purse beautifully. I have good news to report, the Vemayca is indeed the brilliant cosmetic bag I've been looking for.
The Vemayca cosmetic bag is super soft velour type fabric on the outside. The inside is a soft liner that, are you ready, is washable. What? The liner is removable, and washable, so that your cosmetic bag always stays clean. Um brilliant right?
I, of course, got the red cosmetic bag. It is afterall my favorite color. It arrives beautifully packaged in a clear pouch. I'm actually going to keep this pouch to use for storing something, I just don't know what yet.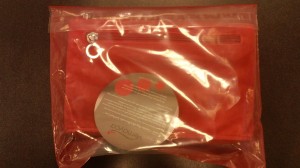 The inside is really nice, and I could tell right away it would hold everything.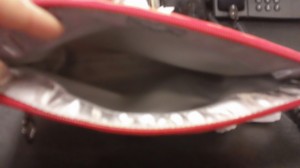 The ultimate test of course is: Will it hold everything in my current bag? My current bag, unfortunately, is bulging from everything in there, so I really did need something a little sleeker. Admittedly, as you will see I carry a lot. I have to, I'm sorry, I'm a "you never know" woman.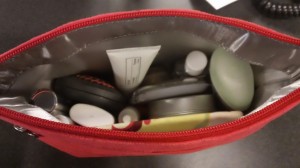 That's not everything in my purse, that's everything in my cosmetic bag. I also have lipglosses and lipsticks in another pocket that didn't even fit in my cosmetic bag. So here is the bag with everything in it.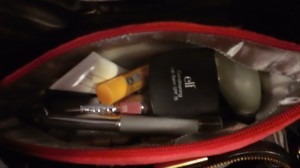 There are zipper pockets on the outside of each side of the bag, and before you ask the question, yes I used those too. Best part about the bag besides the fact that you can wash the inside and fit everything, is that it fits in my purse so much better then my other bag did.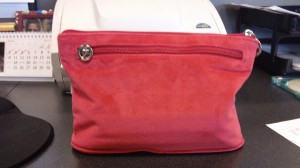 Now do you see why I think the Vemayca bag is brilliant? On top of everything I love about the Vemayca bag, Veronica, the owner/designer, is just as sweet as can be. We hit it off right away. You know us organization loving freaks stick together.
Good news Fashionably Organized readers!
Vemayca
is giving one Fashionably Organized reader one of their bags. To enter just tell me 2 things you carry in your cosmetic bag in the comment section.
All comments must be entered no later than April 17th 9 PM PST. This contest is open to US residents only. The winner must respond within 48 hours before the item is given to another winner.
Do you want more ways to enter? For every item you do below please leave a comment.
1. Sign up for the Fashionably Organized RSS feed (button on the right hand side)
2. Re-tweet this contest by simply hitting the re-tweet button below
This review was made possible by Mom Spark Media. I was given a Vemayca bag for review, however the opinion above is my own swayed only by my inner Fashionista.
Comments
comments