In the last few weeks I have gotten some new items I really love and had to share. Of course they are related to shoes and bags, because let's be honest, that is who I am.
I think sparkly shoes are so cute for little girls so imagine my surprise when I saw the Zodiac USA Blaze ($69) shoes and instantly fell in love. Little did I realize that these would become my new goes-with-everything shoes. They look great with pants for work, skirts, dresses, jeans and capri pants to name a few. They match every color in my wardrobe and did I mention they are sparkly? I'm so happy I have these, and actually worry that I'll wear them out.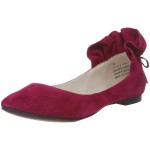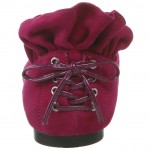 I have to share another pair of shoes that when I saw them I decided they were perfect for I have no idea, but had to have them anyway. I got the Mojo Moxy Celebrity in Fuschia, and it was love at first. I mean look at them. Do you have a reason to think I shouldn't have bought them? Honey do not comment. I've been embracing color for my shoe wardrobe, and it's been a great way to spruce up my closet of clothes I'm bored of.
You may remember my mentioning buying shoes at the Target in San Diego when I attended Bloggy Boot Camp several weeks ago. If not go here. Anyway, I bought these Dolce Vita for Target cork wedge in gold. The picture speaks for itself.
I'll leave with the Amerileather 'Hana' Butternut Squash purse I want to buy, but have no business buying. I blame this entirely on Ciaran (@momfluential) for my new obsession. She posted a bag by the same company, that I fell in love with, on Facebook. Because I can't keep my mouth shut I had to ask where she got it, and the obsession began from there. However, my unemployed-husband-tight-budget means it will stay in my cart for a while. Maybe, one of you can buy it and send me pictures of it.
There you have it my loyal readers, my newest shoe & bag loves [for now].
Head here for more Fashion Friday fun to read.
REMINDER: Tomorrow BlogMania 2011 begins, there will be 70 blogs giving away prizes totalling close to $37,000. Come back here to enter to win the fabulous prize pack provided by the Fashionably Organized sponsors.
I received the Zodiac USA Blaze shoes while attending WWDMAGIC. Hobo International generously sent me the Lauren Sonoma. The opinions above are my own, swayed only by my inner Fashionista.
Comments
comments