I'm often asked what my favorite lipstick/lipgloss is, and it's always so difficult to answer. I have colors for different purposes. I have many everyday colors. I have colors that are my special occassion, or I actually did my make-up colors. If I was on a deserted island, and could only take one color it would be…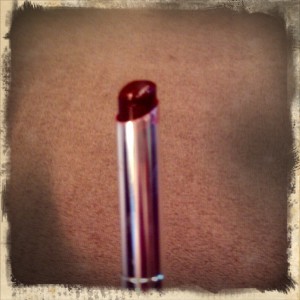 Clinique's Almost Lipstick in Black Honey!
This color looks good on EVERYONE!!!!!!! Did you read that? It.looks.good.on.everyone! I can't emphasize that enough. I have had a tube of this lipstick since I was in high school, and have continuously purchased it again and again.
Over the years I have turned more people than I can count into Almost Lipstick lovers. It always amazes people that this color looks good on them, while it looks good on me. It's like the magic lipstick. If you do not believe that it will look good on you, just go try it, I promise you will always own a tube of Almost Lipstick once you have.
It is the all purpose lipstick because if I don't feel like thinking about it, but want color, I just put on my almost lipstick, it truly transcends no make-up to full glam make-up.
What are you waiting for? GO!!!
Do you have a fave lipstick I should try? Tell me in the comments.
I was not compensated by Clinique, but if you know someone at Clinique who wants to contact me send them over to my contact page. The opinion above is my own (obviously), and swayed by no one but my inner Fashionista.
Comments
comments