I don't think I can properly describe the redhardwick masterpiece on my daughter's wall.  I'm going to try to get close to how fantastic with some pictures.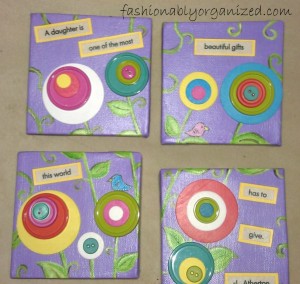 I'll start with a little backstory. Jen the artist behind redhardwick contacted me, and asked me to peruse her flickr photostream to see if there was anything there that I liked. By choosing a few things Jen would be able to get an idea of what I was looking for. I instantly fell in love with her pieces that included buttons, because her integration of buttons was such a unique and fun look.
I wanted her to create one of her one-of-a-kind wall art pieces for A's room. She was so fantastic about trying to get to know me and my style. After 2 weeks I told her to go ahead and create what she thought would work best.
What showed up on my doorstep far surpassed what I thought it would look like. She really did get to know me through e-mails and discussions about specifics, and my daughter. The fact that she captured the joy my daughter brings into our lives with the quote just shows how much she heard what I was saying.
There are 4 canvases measuring 4″x4″. Each one is a stretched canvas that sticks out from the wall about 2″. Originally she was concerned about how I would frame it, but I thought hanging them directly on the wall really allowed them to stand out.

This is what I opened my package to find.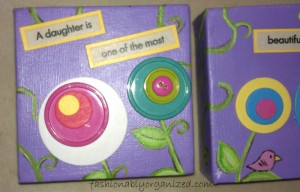 Close up of 1 of the paintings.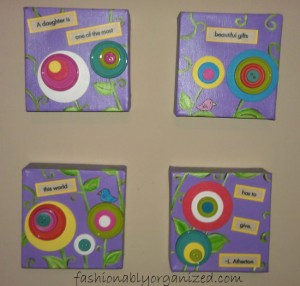 Up on A's Wall! (No they are not crooked, it's just the camera angle of a short person.)
I can't thank Jen enough for hearing me and being such an amazing artist. I know these are pieces that will be staying with us forever. This is something that you cannot replace.
This review was made possible by Mom Spark Media. I was given this one of kind art for review, no other compensation was given. The opinion above is my own swayed only by my inner Fashionista.
Comments
comments