The rage these days is one shoulder evening dresses, so you know I had to find ones that were different then all of the rest. I did find some fantastic options at Very in the UK.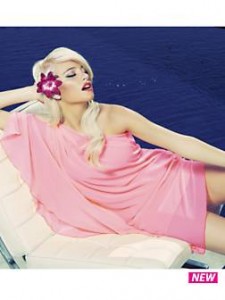 Very is a UK department store that excels at unique items. I instantly fell in love with their one shoulder evening dresses. The Lipsy by Pixie Lott dress ($89 after conversion) is just one of the great dresses I found on the site.
I only wish I was tall enough for the South one shoulder jumpsuit ($29 after conversion). I always see them and think about how sexy and classy they look, all at the same time.
Then I found the Lipsy one shoulder embellished jersey tunic ($62 after conversion), and was absolutely in love. The picture on the site shows it with jeans, but I imagine it could go with anything.
In true Fashionista form I couldn't possibly leave the site without looking at the purses. I fell in love with the Nica bag. ($112 after conversion). I've been dying to get a navy bag, and that one fits the bill perfectly.
This department store doesn't end at women's clothing, they have men's, children and more. It's a one stop shop for everything unique and chic happeing in the UK.
This post is in association with Very . The opinion above is my own, swayed only by my inner Fashionista.
Comments
comments