I know that every single person reading this has had to pack their charging cords when they leave for a day, or longer. When I go on longer trip it's a minimum of 4 cords. I have finally found the easy way to pack them so that when I pull 1 cord out of my bag it isnt't a  jumbled tangle of cords that has a knot in the worst possible place.
Here's what you need:
rubberbands
paper
scotch tape
freezer size ziploc bag
Start by gathering the cord in the middle and wind it back and forth. I'm going to use my iPod cord as an example (below). Start by deciding how much slack you want to plug into the wall, and how much you want connecting to the device. Then you wind back and forth as you would any cord. Put a rubber band around the middle of the wound part, and you now have a shorter cord. It will look like this: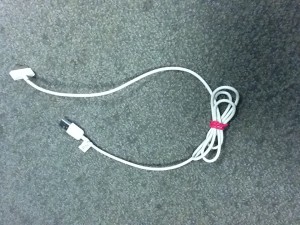 Next you're going to want to take a piece of paper and tape. I used my label maker, but not everyone has one. Write the name of the device on a small piece of the paper. Fold the piece in half, and place it overlapping the cord closest to the wall part. Take a piece of tape and wrap it around that piece of paper to secure it onto the cord tightly.  Label each one of your cords, it will help you locate each cord quickly. It will look like this: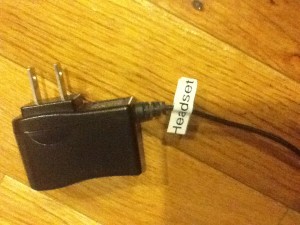 Don't use a name that will have you wondering what the heck the cord is for. I didn't name my blue tooth headset "Plantronics" which is the name of the brand, because I would never remember that was my headset. OK maybe I would, but you get what I mean.
Lather, rinse, repeat. In other words do this for every single one of your cords. Now you don't have a jumbled mess of cords that you can never locate which is which.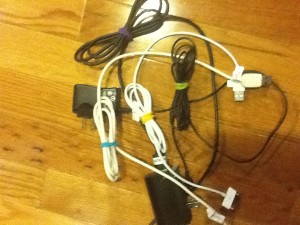 Once you have done all of the cords you intend to take put them in a ziploc bag, so that they aren't hard to find (i.e. at the bottom of your bag). I use the Clearly Organized Bags (previous review) to put them in, but honestly any old bag will do. I do recommend that it be clear so that it will be easy to locate which cord you need.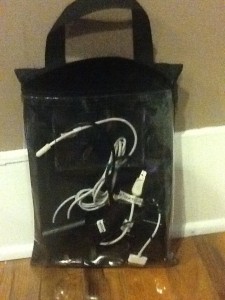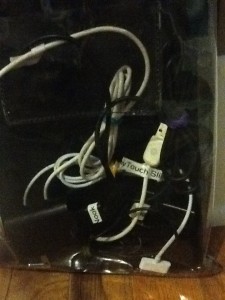 Now that I've done this I don't take the rubberbands off at home. It makes charging even at home much easier to handle because I don't have a wall with an octopus of cords coming out of it.
For those of you attending BlogHer in 2 weeks I cannot express to you how much this will help you keep all of your cords in check.
Comments
comments