Dear Fashionista,
I always wear the same thing even though I have tons of clothes. Once and for all I'd like to purge what I'm not wearing. It's just in my way, and I detest clutter. What criteria do you have for keeping or purging? Thanks.
-Dawn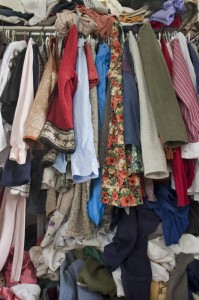 (via)
Dawn is a dear on-line friend, who I've known for a long time. She is an uber organized woman, so I was shocked to get this request. Having her ask me about purging clothing I realized that even the most organized of us don't want to let go of clothing/shoes. When we buy them we're committed to them. They are, after all, the chosen ones right? 
My recommendation is to do a purge each season. Here are some guidelines I use every single time I do a purge.
1. Create 3 different areas to facilitate the weeding process: maybe, toss, donate. You have a 4th option, which is keep, but my assumption is that the keep will actually be putting an item back into the closet.
2. Go through and pull out the things you may not wear often, but should have in your closet. Examples would be a great fitting suit, little back dress or a formal dress. Although, these items may not be worn quite often, if they fit, it's important to realize the need to keep these instrumental pieces. Put them in the keep pile.
3. If you remember nothing else of what is written here please try to remember this: If you have not worn it in the last 6 months, or more, it needs to go. ( I do understand that 6 months ago the season may have been different, but this is based on non-seasonal items.)
4. If you pull out a piece of clothing and you say to yourself, "I don't remember having this," then it's probably meant to go.
5. If it doesn't fit get rid of it.
6. If it's uncomfortable to wear i.e. too short, too tight, it needs to go.
7. If it still has tags and you bought it more than 3 months ago, ask yourself these 2 questions: a) Did I forget I had this, and am so happy I found it? or b) I don't know if I have anything to wear this with, and it's just not right? If it's the latter get rid of it. Sometimes we buy stuff on a whim, and it just doesn't work out. Using precious space in your closet because you bought it isn't a good enough reason to keep it.
8. Now go back to the maybe pile. Going through the maybe pile last allows you to see what you've kept, and whether or not the items in the maybe pile will even work with the items you have.
When it comes to shoes this is the only way to go:
1. Pull ALL of your shoes out of your closet. Firstly, you'll find that pair of shoes you've been looking for, and you'll realize that some could really go. Seeing all of your shoes in a pile, has you wanting needing to weed out.
2. Separate the shoes by categories: heels, wedges, formal, flat, athletic etc. Go through each pile individually. This helps you focus on the current needs of your shoe collection versus keeping because you simply like that pair.
3. Get rid of shoes that are worn to the bone. If you want to keep those shoes because they are "the shoe," go to a shoe repair place, and get them a spa treatment.
4. If they are uncomfortable, and you don't wear them, they go in the donate pile. You have plenty of time to collect more cute uncomfortable shoes.
5. Put all of the pairs you are keeping back in the closet in an orderly fashion, and you'll feel like you have a whole new shoe closet.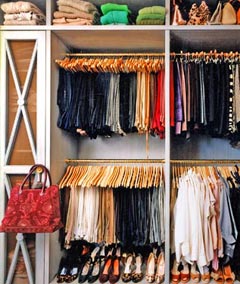 (via)
Additional Tips:
Once your done put like things together and color coordinate. It makes it much easier to find what you need right away.
When you come home with something new, or many new things, take the same amount out of your closet. Switch one for one. It will guarantee that you always have room for more.
Have a clothing swap with your closest friends. My co-workers and I do this, and it's FANTASTIC!!!!! We all come with our bags of clothes to someone's house. We each bring a dish, and the host supplies the alcohol (you see where I'm going with this right?). We lay out our clothing very nicely all around. If someone has a clothing rack they can borrow it's great for hanging things. We each pick a number out of a hat and we go in order picking clothing. One piece at a time, and you go try it on. If it doesn't work you get to keep going until you find your one piece. IF there are a lot of people you can have 2 go at a time. It's so much fun, and you get new stuff. Whatever isn't taken gets donated.
Ladies (and gentlemen) it is hard to let go of a piece of clothing, but what value does it have to you sitting there? What's the point of being emotionally connected to clothing? Like I said in #2 above, you pull aside the stuff that has to stay. Maybe there is that one thing you want to keep, but not everything is that 1 thing.
Do you have a pressing question about budget friendly fashion, beauty, home decor items, or organization you need help on? Please go here or contact me?
Check out my Fashionista sister Kori of Blonde Episodes for more fashion fun.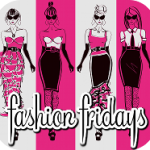 Looking for more Fashion Friday fun? Check out this great link-up by some great ladies.
Comments
comments