I can't even remember where I received the sample of Redken Velvet Gelatine O7, but I'm certainly glad to have been able to try it. I am ever on the hunt for a product to protect my hair from heat damage when I blow dry.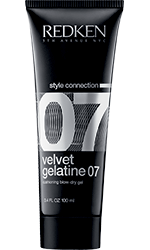 I have mentioned before that my hair is very thick, and there's a lot of it. It makes blow drying, especially in the summer, a laborous activity I despise. It takes me about 15 minutes with an ion blow dryer to get it mostly dry. Given the time it takes to blow dry, it fries my hair, so protecting my hair from all of that heat can be hard to do. Then of course there are the times that I also use a straightening iron on top of the blow drying. You can imagine all of the damage that can cause.
The first time I tried Redken (@Redken5thAve) Velvet Gelatine 07 I could not believe how well it worked. In all of the years of trying various "heat protecting" solutions, I never felt that they did much for my hair. The purpose of the Velvet Gelatine is to give your heat styled hair body, while protecting it from heat damage.
I will say 2 things you should note: After you're done blow dryingt here is definitely a distinctive odor. It's not good or bad, but I know there are a lot of people who are sensitive to odor, so I want to be clear that there is an odor. It does dissipate during the day. The other thing you should know is that a little goes a long way. When it comes to products my hair needs a little bit more than recommended simply because I have more hair. In this instance I have put on too much, and it makes your hair a little crunchy if you do.
Now that I have run out, I am going to have to actually go out and purchase this product, because I love running my fingers through my hair after blow drying. My hair is softer than ever before, and it's not frizzy from the heat styling.
I did receive this product at an event. I was not compensated for this review. The opinion above is my own swayed only by my inner Fashionista.
Comments
comments