Thanks to SUBWAY® restaurants for sponsoring my post about summer fun with my kids. Check out the Kids Eat Free program at any LA area location! Just purchase any two subs, two sides and two drinks, and you can get a kid's meal FREE!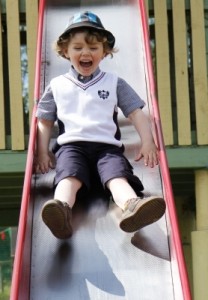 Here are some great summer ideas that the camp has inspired us to do (if it's outdoors please put sunblock on your kids):
1. Sidewalk chalk is one of the easiest art projects in the summer. My kids can be outside using sidewalk chalk for a minimum of an hour. Get in there with them. Have the kids lay down and trace them, or have them trace you. Tell them to color themselves any way they want. Draw a huge car and have the kids fill the car with the necessities for a imaginary trip. Build a long road, and get out those cars. The possibilities are endless.
2. When it's too hot to go outside declare it pajama day. The kids don't get out of their pajamas, and you watch a movie of their choice with popcorn and ice cream.  After the movie pull out boardgames and I've been known to throw in a treasure hunt in the mix. Plain old game of hot and cold is so much fun. You know, you're getting hotter hotter hotter…
3. Good old fashioned cook out. Sometimes we get out [Hebrew National] hot dogs, and put them on the grill with corn on the cob. Fruit salad and sit out in the backyard for dinner. We usually have the boys help make dessert, so they are part of the cooking fun. We sit down outside and talk about everything and anything. It's nice to be outside enjoying time together. Tip: get yourself a Citronella candle and light it at the table 30 mins before you sit to eat.
4. Instead of a picnic in the park we do snacks in the park. It's so hot during the day we wait until about 4 PM and head over to the park. I bring a bag full of snacks like grapes, pretzels, raisins, apples and goldfish crackers with lots of water. R & I bring our fold up chairs and an outdoor blanket or towel. We sit in the shade playing with A, while the boys enjoy running around. They'll stop by for a grape or two and head back to the slides. I always take my camera and take pictures of the boys playing. I know those pictures will be the times I want to remember.
5. You'd be surprised how much fun a kiddie pool can be for everyone. I bought one for $10 about 2 weeks ago and set it up in the front yard. I sat out with the kids watching them laugh jump and splash while I read my book. When I told them it was time to go inside they were so disappointed. I told them the next time we'd have a water balloon fight. Boy am I in for it, but I'm actually really excited about it too.
In the end I realize that it's the simple things that cost no money that make the kids super happy. They just want to spend time with us, and get out. Just remember it doesn't take much to have fun this summer.
I was selected for this sponsorship by the
Clever Girls Collective
,
which endorses
Blog With Integrity
,
as I do.
  * 
Image: Tina Phillips / FreeDigitalPhotos.net
Comments
comments