I went to the Big Toy Event at BlogHer this year and immediately went to this table with these bracelets by Shains. They were customizeable with little buttons. Once I was done with my bracelet, I got their card immediately. I put my twitter handle on mine even though they didn't have the @ sign, and wore it all weekend.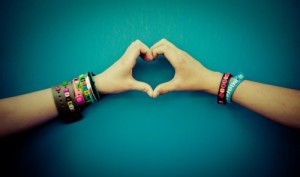 Shains   (@shainsware) are made of recycled and recyclable parts. They sell more than just bracelets. They have journals, belts and more. I'd be a liar if I didn't tell you that I love these things as much as my kids do. They are also great for when you go somewhere with the kids, and have the possibility of them getting lost. The fact that they are easily changeable makes it easy to change it to contact information. Does your child have allergies? How about putting that allergy on 1 of these bracelets? The possibilities are endless.

I was so excited when I looked in the swag bag and saw there were 2 sets of bracelets. I knew right then and there J was going to flip his lid when I got home. Anything to do with an art project or craft he is instantly in love with. I was totally right. As soon as I showed it to the boys J was at the table creating his bracelet.
For the next 3 days he did nothing but pester me to get more letters. He needed more letters to fully complete his bracelet. I contacted Shains, and you wouldn't believe the package that arrived at my doorstep. I have to admit I didn't use good parenting judgement when I opened the package just when dinner was starting. A pushed her plate away, without taking 1 bite, and said "me do." For the next 2 hours the boys were heads down creating. J took the journal and spent the whole time perfecting it. It's not perfect yet.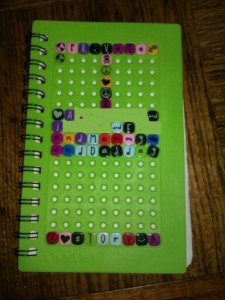 notice the word on top says "private", I thought that was so funny
I'm so impressed with Shains, I can't quite put it into words. The quality is great, the prices are very reasonable, they are earth friendly and most of all the hours of entertainment is phenomenal. Did I mention that they are mostly accessories for kids? Let me tell you that the pony tail holders are so cute, and A loves wearing them. I love the headband, but unfortunately she won't keep it in her hair. I put the word "sunshine" on the headband, because I call her Princess Sunshine.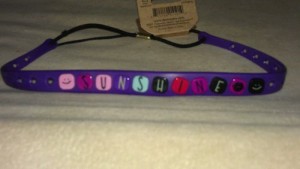 Shains is giving one very lucky Fashionably Organized reader a fantastic prize package worth $43 that includes:
– Bracelet Starter Kit with 60 Elements (the entire alphabet and 7 cool icons) ($12.00)
– Notebook with 60 Elements (includes 50 sheets of unlined paper) ($16.00)
– Headband ($5.00)
– Belt ($10.00)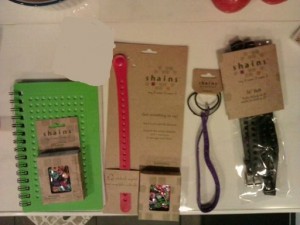 (colors may vary)
Mandatory entry: Comment below with your favorite Shains product by going to the Shain's site, and then coming back here.
All comments must be in by Wednesday, August 31st 6 PM PST. The winner will be picked at random. The winner will have 48 hours to respond after notified of winning before the prize is awarded to another person. This is open to US residents only. No purchase necessary.
Additionaly entries: Comment below for each one you do below:
– Follow Shains  (@shainsware) on Twitter (click link in the parenthesis to the left here, or in the first paragraph above)
– Like Shainsware page on Facebook
– Follow Fashionably Organized  (@FashOrganized) on Twitter (click link in the parenthesis to the left here)
– Like Fashionably Organized on Facebook
– Retweet this post hitting either the Tweet button above or below this post (limit 2 per day)
I received products for this review, however, there was no further compensation. The opinion above is my own swayed only by my inner Fashionista.
Comments
comments