Dear Fashionista,
What the hell do I do with the ends of belts when they stick out too far on the other end? Is there a double sided tape made specifically for that kind of thing?
Halp!
– Mary (@MamaMaryShow) of The Mama Mary Show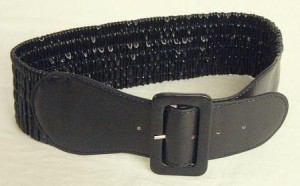 Dear Mary,
If you go to Target to where they have the mass choices of invisible tape you'll see Scotch makes double sided tapes. There's actually one that is permanent, and one that is removable. It's meant for scrapbookers who want to put a picture down, but may want to reposition it later. I figure this won't ruin your belt as much as a permanent one will. However, if you want a stronger hold get the permanent one. Make sure to read the label though, so you get what you want. OR go crazy and buy both.
You could also put a hair rubber band w/a flower you have from the girls, it would look like an extra accessory. You can get some prettyified (word?) rubber band at Target where they have the regular hair stuff, most likely by Goody for "grown-ups".
Thanks Mary for contacting me (again), and I really hope that I get to see your belt at BlogHer this week.
Comments
comments