As many of you know I'm at BlogHer in San Diego. I have asked some really fantastic bloggers to make a guest appearance for a few days. Today I have the fantastic Elizabeth (@Elizabeth_N) of Party Planning Professor. I want to thank you, Elizabeth,  for a reminder of how to cheer up, because I definitely need these tips.
I am Elizabeth.  I am founder of a Birthday party ideas site called Party Planning Professor and blog at Love Is Time. My life as a foster mom, birth mom and occasionally give you blogging tips. Every day isn't a walk in the park for any of us.  I personally have been through some tough times with family, some historical (in my heart) break-ups with boyfriends and have had to say hello and goodbye to over 21 foster children.  I have had some heartbreak but I try so hard to take each moment and learn how to celebrate them in some way.  Here is 7 tips that help me have a little sunshine on a rainy day.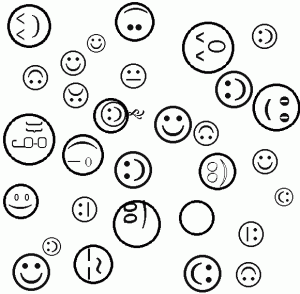 (via)
1. Get Crazy : Go be silly. Dance. Blast the music and soothe the soul. Buy a new download on iTunes or treat yourself to a CD.  Jump and blast the music.  (P.S. Don't make the music too loud or the neighbors may start to wonder if you really have gone crazy). Really just enjoy the moment, enjoy every beat, and enjoy the music from ear to ear.
2.  Get Creative:  Get in the kitchen and bake something that you have never made before.  Dust off the sewing machine and sew something.  Anything! Decorate the house, rearrange the furniture.   Pick a new favorite color and create something in that shade.
3. Get Loud:  Call a friend.  Laugh out loud.  Talk about upbeat things.  Yap Away.  Learn something new about a friend.
4.  Get Outside:  Soak in the sunshine.  Breath in the air.  Many people think that your nose is meant for oxygen and your mouth was created for food consumption and communication.  Take deep breaths and concentrate on enjoying the space.
5. Get Moving: Go for a walk.  Take an exercise class!   Turn on your Wii and an exercise movement game.  Try racing your friend or kids to the car.  Go learn to play a game you have never played before.
6. Get Positive: It is time to knock off the negative and look at the positive. Read inspirational quotes or look for spiritual guidance.  Realize you are only in charge of you and others are responsible for themselves.  Acknowledge that life can hand you a rough deck of cards but nothing will compare to the way you decide to play them.  Reaction is in your hands make positive choices from here on out!
7.  Get Believing:  Some say 7 is an unlucky number.  That is exactly why I choose to stop at number 7.  I do not believe in luck be it good or bad.  I believe in opportunity meeting a situation and how it is handled.  You need to start believing.  You need to realize a way to be cheerful is believing you can no matter what the circumstances are.  You need to start believing in your right, in your choice and in your obligation to yourself to be cheerful and content.  It is your turn to be you, a more cheerful you!  :).
Enjoy your life!  Here is some music just to cheer you up step #1.  See…..look how far you have come!

Comments
comments