As many of you know I'm at BlogHer in San Diego. I have asked some really fantastic bloggers to make a guest appearance for a few days. Today I have the fantastic Rajean (@rajean) of
Rajean Blomquist
. I'm so excited about this post because Rajean has such amazing ideas.
Having been around the parenting block, my oldest will turn 21 later this year (yikes!) and my youngest is just coming out of the toddler stage, I think I might actually have trialed enough 'wonder if this will work for that' tips to help organize the clutter of more than just that of my family. Maybe just a bit.
Zippered Sheet Storage Bags
One of my proudest moments as a mom wanting to be worthy of a paragraph in any month's Martha Stewart Living magazine came when I was about to throw away the zippered plastic packaging that keeps new sheets neat on the shelves of our nearest Target.
It gave me pause. It has a perfectly good, working zipper. It's clear. Most are rather sturdy. They come in a range of sizes, just like the beds in our home.  This seems too good to throw away.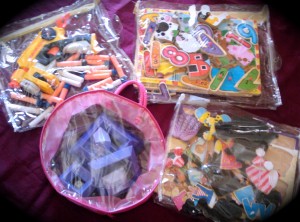 These zippered bags work wonders for storing puzzles, game pieces, nerf toys and their nerf parts – you name it. It makes clean up much easier. Your kids and you can see exactly what you're looking for when you need to grab a quick toy to keep them occupied in the car, waiting room for an appointment, overnight trip to grandparent's house.
Honestly, they work better than stacking games on a closet shelf. When you or your kiddo drop a game or puzzle box, you create yet another mess to be cleaned up. And we know they rarely get cleaned up if left to the kids. They get pushed into the closet, under the bed, the dog drags off a piece or six to play with, never to be seen again – you know the drill.  That's the beauty of the zipper. It keeps things inside. Drop after drop.
We take our games out, along with the instructions, put everything inside a zippered storage bag and toss the game box. We keep ours in our various toy boxes. My friends always comment about how we rarely have little pieces and parts scattered at the bottom of our toy boxes.
Each time I buy or receive a set of sheets, a blanket, comforter, I save the zippered bags in the linen closet. I'm sure you can think of other uses for the bags if you don't have toys & games to organize. I've also used them to keep coupons, magazine articles I've torn out to read later, photos to be organized, school papers.
Childproof Pill Bottles
Another easy save is the plastic pill bottles with the child safety caps. Again, they're clear, they have perfectly good working lids and they can really help you organize your junk drawer or cabinet – in your house or in your garage. Simply remove the prescription label and find items to store inside.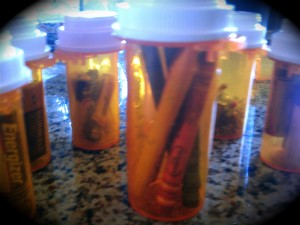 Some of my favorites include a handful of crayons. I keep one in my purse. I've given one to my young daughter for her purse. Dad can pop it into his pocket. How many times have you been at a restaurant and heard, "I'm sorry, we ran out of crayons to go with the kid's menu's." Or an argument ensues when one kiddo wants a yellow while the other is using it. Problem solved.
I also store home repair nails, screws and bolts in one. I keep a small hammer & screwdriver next to it. I'm ready for action at all times. They're great for desk needs like paper clips, rubber bands, thumb tacks, etc.
I've poured paint into them and kept handy for minor touch ups with an art brush.
But the single best use for these pill bottle organizers is storing batteries. I've always used them for those three or four AA, AAA or 9V batteries that are left in the larger package because the pill vile takes up a lot less space in a drawer than the battery packaging. Recently, though, a terrifying story made our local news in Colorado and then the national news. A young child died because she had ingested a small, round battery, like the kind used for hearing aids or hand held games.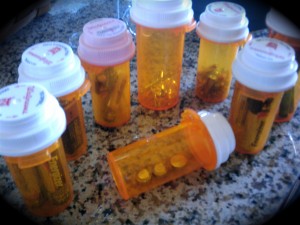 Until that story, I had never considered batteries a danger for my young kids. But it made sense. The flat round ones especially, look like candy to a young child. Shiny & round.*
For that extra sense of security alone, I'm happy I thought enough to hold on to the childproof-capped bottles.
Magazine Perfume Samples
My final tip? Next time you're reading a magazine, whether it's your own or one in a waiting room, tear out the cardstock samples of perfumes. They work great to freshen a sock drawer, purse, backpack, gym bag, car, bathroom, laundry room and pet room. I've even included them in letters or cards I've mailed. Tear back the flap and be amazed.
What are some of your favorite repurposing tips?
*To learn more about button battery dangers, go to Poison.org.
Comments
comments