Last year when I attended Fashion Night Out ("FNO") I went to 1 party and then headed home. This year FNO became exponentially bigger. It was like going to a Fashion carnival complete with a ferris wheel and performers on the closed-to-traffic Rodeo Drive.
Although, I cannot afford the price tags on the items in those stores, it's so fun every year to just browse. Instead of a fall fashion recap I'll just show a few pictures of my highlights.
One of my all time favorite designers is Badgley Mischka. Just walking by the window was inspirational.
Fashionistas from l to r: Romy (@romyraves), me, Mary (@recessionista)
Me coveting a necklace in the window.
Ellie (@teasandsweets), my gorgeous sister-in-law using the Bling Bling Emporio headset for iPhone4
Ellie & I having a drink at The Blvd in the Beverly Wilshire hotel (we saw Wolfgang Puck walk by our table).
This Michael Kors jumpsuit was just amazing.
First I have to lose weight, then I have to be able to afford it and then I have to have a place to wear it.
Being at Fashion Night Out in Beverly Hills was so fun I never made it to West Hollywood. There's always next year right?
Check out my Fashionista sister Kori of Blonde Episodes for more fashion fun.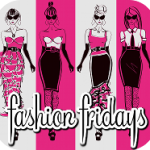 Looking for more Fashion Friday fun? Check out this great link-up by some great ladies.
Comments
comments