Every Wednesday my sweet sister-in-law, Ellie, will be doing a lifestyle post for all my fabulous Fashionably Organized readers. Please welcome my newest (and most beautiful) contributor, and without further ado here's here first post. Enjoy!
Hello readers! I am so excited to be teaming up with Candice @ Fashionably Organized and writing a weekly post.  I am Candice's sister in law (married to her younger brother) and love fashion, makeup, and DIY projects as much Candice does!  I am also very into event planning and everything lifestyle related. Oh, and I used to have my own high tea party catering company, so I will definitely be sharing party tips, tricks, and treats!  I can't wait to get to know you!
I was recently invited to a friend's home (she just got married) and I needed to think of a host gift.  Flowers, wine, picture frame, candles, etc. would have been nice, but too predictable.  Then I remembered an AMAZING and super easy chocolate chip cookie recipe and thought, "Who wouldn't want to receive a basket full of cookies?"  Total time spent for prep, bake time, and arranging the cookies: one hour.  Enjoyment of the cookies by all the guests: all night long.  That people think I am a baking goddess: eternal satisfaction.
This is really just an opportunity to share a great recipe with you.  You can bake these cookies for any reason or no reason at all.  I can also confirm that my niece and nephews approve, so it is very kid-friendly (and you can get them to drink a glass of milk to boot)!
I have attached pictures for what each step of the directions should "look" like in case you were wondering if you are off or not.  Here is a pic of me in my favorite apron ready to get my bake on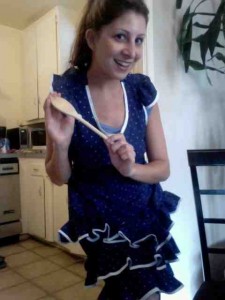 Never-Fail Chocolate Chip Cookies – makes approximately 3 dozen cookies
Ingredients:
* 1/2 pound unsalted butter (room temperature)
* 1 cup light brown sugar
* 1/2 cup granulated sugar
* 2 teaspoons pure vanilla extract (good vanilla, not imitation, is important and trust me, it makes a difference)
* 2 large eggs (room temperature)
* 2 cups all-purpose flour
* 1 teaspoon baking soda
* 1 teaspoon kosher salt (sounds odd, but it don't worry, you don't taste the salt)
* 1 1/4 pounds semisweet chocolate chips or chunks
* Optional: 1 1/2 cups walnuts or pecans
Directions:
Preheat the oven to 350 degrees.
Whip the butter and two sugars together until the consistency is light and fluffy.  If you have an electric mixer, feel free to use it.  A regular dinner spoon will work just fine too to whip the sugars and butter.

Get out your sifter (very important when you are working with dry ingredients to make sure nothing clumps).  Sift the flour (1 cup at a time), baking soda, and salt together and add to the sugar/butter/vanilla/egg mixture.  Mix only until the dry and wet ingredients are combined.

Line your baking sheet with parchment or wax paper.  Drop the dough on the lined baking sheet using a rounded tablespoon (or a 1 1/2 inch dough scooper if you have one).  Make sure the cookies have at least 1/2 inch of space between them.

Bake cookies for 15 minutes (don't worry if the cookies look underdone).
Remove from the oven and transfer the parchment/wax paper with the cookies to a wire rack to cool completely.
How to arrange:
I decided to place my cookies in a basket and wrap the basket in cellophane and add a ribbon at the top.  You can buy wonderful baskets or china/ceramic platters at your local second hand or Salvation Army store, arrange the cookies on it, and wrap up the entire thing in cellophane.  Or, try using the top half of a gift box, filling the box top up with cookies, and wrapping it up with the cellophane.  I love tying the tops up with festive ribbon and holiday decor (you can add an ornament if it is Christmas time, faux flowers if it is spring, etc.). If you are the hostess, just pick your favorite platter and arrange away!
xxx,
Ellie
Comments
comments