I cannot believe it's time to pick Holiday Cards already. Thankfully Tiny Prints has a Holiday Collection that is absolutely beautiful.
I began looking at the Holiday Cards on Tiny Prints (@TinyPrints) , and when I opened up the Holiday Card section, right there on the first line of cards was a card I loved. I told myself that I had to keep looking, and then I realized that it was going to be a VERY hard decision. Tiny Prints has really outdone themselves, and have also made it impossible to decide.
Here are the current questions I have: Do I do 1 picture or many? Do R & I actually have a presence on the card, or just the kids? We've never been on the card, maybe this year we should be, or why break tradition. Should we do Holiday, Hanukkah or New Year?
These are my favorites [for now], and I don't know which one to choose. Maybe you can weigh in on this, and make my life a little easier. Better yet, show me the card you love.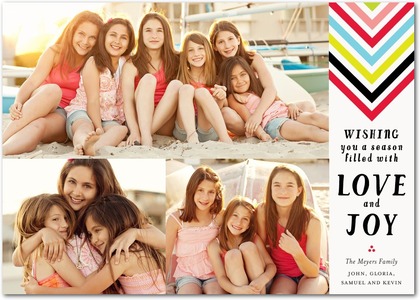 One thing I'm always drawn to when I choose my holiday cards are colors that aren't necessarily holiday related. The Colorful Collar: Bright Red uses vivid colors in a chevron pattern. It's a nice change and makes the card different from any other holiday card.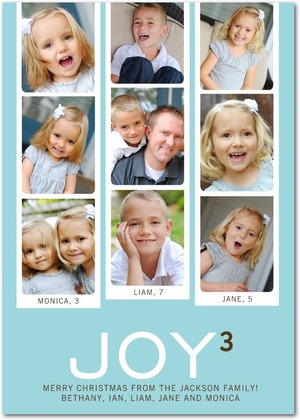 The Triple The Joy: Surf card is perfect because having 3 kids makes it so hard to decide which pictures to put onto a card. With this card I'll be able to put 3 pictures of each of the kids on the card. I love the idea of being able to share more smiles with our family and friends.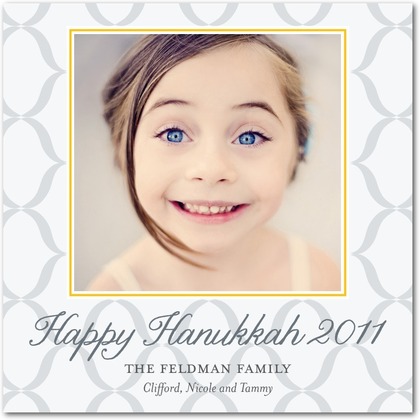 I do wonder if I should just send a Hanukkah card since we celebrate Hanukkah. I just like to be more generic to embrace so many different religions amongst the people who receive a card from us. However, the Joyful Hanukkah card is so beautiful. I waiver in my thinking of a holiday card.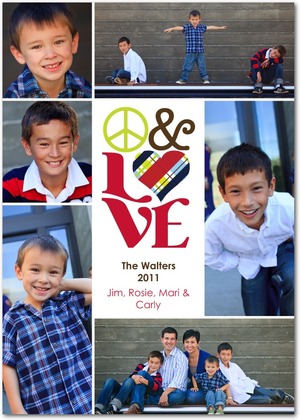 I really like the plaid of the Meaningful Symbols card, but what really struck me was the message Peace & Love. It's so simple, and yet says so much.
Head over to Tiny Prints and look at all their vast array of holiday cards, I know they will not disappoint.
Now I need to take pictures of the kids…
This is a sponsored post, as I was given holiday cards from Tiny Prints. The opinion above is my own, swayed only by my inner Fashionista.
Comments
comments