We have been blessed to know 3 couples this year who had their 1st child this year. I wanted to make something special for them for each baby to commemorate their 1st Hanukkah, so I made an alpha bet wood block Menorah.
It was a relatively easy and inexpensive item to make, but most importantly it would be something to remember the baby's 1st Hanukkah.
Supplies: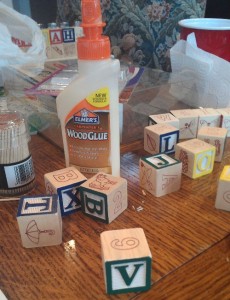 Directions:
Put the blocks together on the shelf 9 blocks long, making sure the letters of the name are centered. In addition remember to put an extra block on 1 side for the Shamash (lighting candle). Play around with the various ways you can stack the blocks before you begin gluing.
Begin by putting wood glue on the bottom of the first block, and placing on either the right or left side. From there put glue on the side that will be touching the block next to it and the bottom of each block to get a more secure hold. Continue to stack each block gluing all sides where possible and then position in place.

Wood glue is easily wiped off with water, so if you have drips take that wet paper towel and wipe them right away.
Once you are done stacking and gluing the blocks, get the Gorilla glue out. Using a wet paper towel dampen the top of each block as you are about to adhere the hex nut. (Read the directions on the glue before using.)

Put a tiny bit of the Gorilla glue on the top of each block and place the hex nut in place, pushing down slightly.
Using a toothpick go around the hex nut scraping off any excess glue. Do this as you go because the glue does dry quickly. Continue this until all 9 columns of blocks have a hex nut on top.
Again, go around each hex nut with a toothpick.
Squeeze some of the wood glue on a paper plate. Take a toothpick dipping it into the glue and start to fill the cracks on the backside of the Menorah. Again, remember to wipe all excess glue and drips right away. While this step is not necessary it's recommended for extra hold.
If you would like take an exacto blade to clean up any dry glue both around the hex nuts, on the shelf  or in between the blocks.
Let the Menorah stand for a few hours and then stick the little rubber tabs in each corner underneath. This will make sure the Menorah doesn't slip, and it protects the surface underneath.
You now have a beautiful memorable Menorah to be used for many Hanukkahs to come.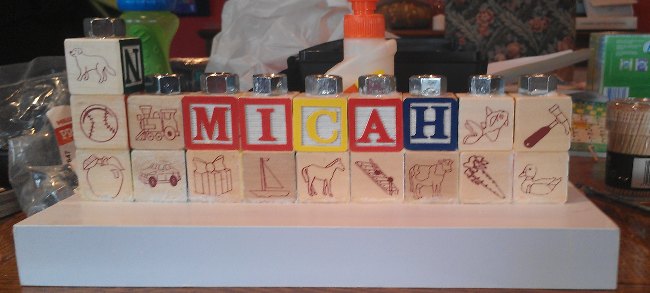 I loved making these Menorah's, and I can't wait to give them to the parents of each child.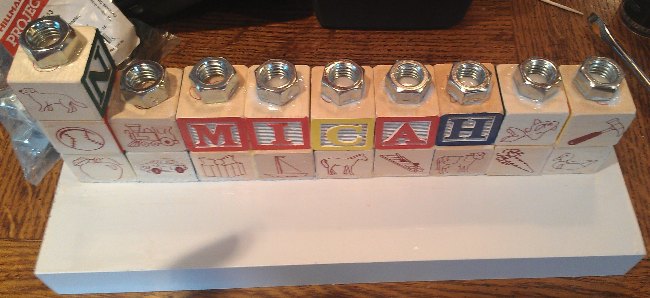 Tonight marks the 1st night of Hanukkah, so I wish those who celebrate a very Happy Hanukkah!
All pictures were taken on my T-Mobile HTC Amaze 4G CMP.LY/2/YK7TbS
Comments
comments