I have a new love affair with dry shampoo, and Batiste takes it up a notch, by adding great scents to their formulas.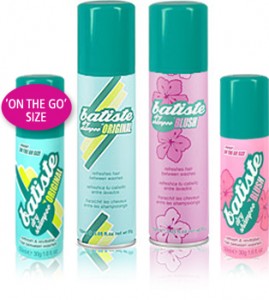 In the last 9 months I have tried many dry shampoos, and time and time again the budget versions win hands down. Batiste is another great dry shampoo in the under $5 price point. Dare I say this may be my new favorite dry shampoo? Yes, it has fast become my go-to dry shampoo. It definitely out shines (pun intended) its pricey counterpart.
All I need is 2 or 3 spritzes, and it revitalizes my I-need-to-wash-my-hair. Unlike many of its counterparts Batiste doesn't leave as much of a white powder that needs to be smoothed into the hair. I spray it in my hair, then just run my fingers through my hair. All done!
Batiste takes their great product up a notch by adding scents to their dry shampoo. It comes in Original – a light fresh scent, and Blush – a flowery scent. I have to admit I like them both so much that I have no way of telling you which one is better.
It's great walking out of the house and spraying it in my hair, because not only does it freshen up my look, but it also makes my hair smell good. I say win-win!
I was sent the Batiste dry shampoo for review. No other compensation was received. The above opinion is my own, swayed only by my inner Fashionista.
Comments
comments