For New Year's I thought I'd bling out my nails with the Sephora Collection Nail Bling. I got the black rainbow, and it really is blingen' style, and so much fun.

At $7, makes it cheaper than its Sally Hansen counterpart. The Nail Bling is easier to put on, however, because the dots are 3D, you have to be a bit more careful when filing off the ends. I actually wound up using my metal cuticle pusher (like this one) to push the ends down under my nail, and that made it easher to just rip off. I would then file the little pieces left.
This was taken about 1 hour after I put them on.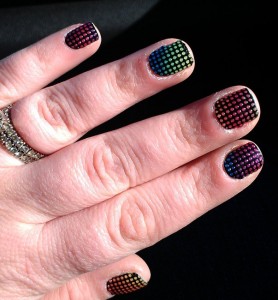 This is how they look today on day 4. This is a close up so you can see all of the damage to the Nail Bling up close. I did a lot of cleaning, organizing and painting furniture in the last 3 days, and I only wore gloves while painting. The work I was doing is the kind of activity that absolutely would ruin a manicure, and would require my removing the nail polish altogether. Considering the beating that my hands got, they are in great shape.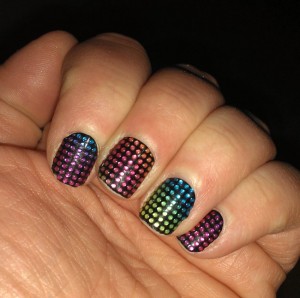 I don't think I'll be taking them off much before the weekend, unless there's a drastic change in the look of my manicure.
I'm quite impressed with the nail bling, and will be returning to Sephora very shortly to purchase a few more options, like the gold leopard. They're fun and actually last my $7 worth.
All pictures were taken on my T-Mobile HTC Amaze 4G CMP.LY/2/YK7TbS.
Comments
comments