It is always my thinking that organizing is so much easier when you use pretty storage bins. I call this bringing in the pretty.
I get asked a lot for storage solutions when things become so overwhelming. My first response is to get storage containers that will be more likely to be used long term by bringing in the pretty. When organizing is not one of your favorite things to do, makes storing things visually stimulating.
My recommendation is to buy storage bins that work with your style. You can go as far as making sure they match the decor in the room you'll be using them in.
You can use storage bins everywhere to be quite honest, but here are my recommendations for the 4 essential places where a storage box is needed: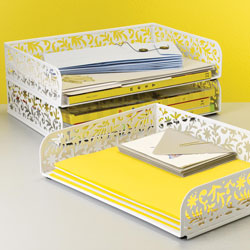 1. Put a shallow box by the front door, or on your desk for the mail. A great one to try is the Vinea Stacking Letter Tray. I know it's impossible to go through the mail as it comes, so your best bet is to use a small shallow box that will allow you to go through the mail at a later time.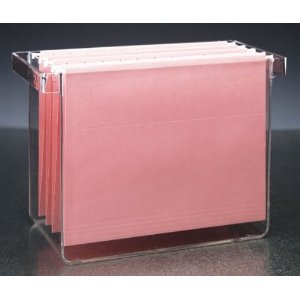 2. A temporary filing storage box. I'm partial to upright file boxes like Hanging File Box (Clear). When you know you need to follow-up on something you can file it away, and have it on a counter, or desk to be ready for reference at any time.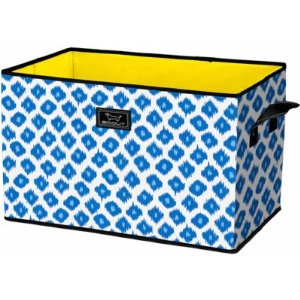 3. A large bin by the door for shoes or backpacks when the kids come home from school can save you from tripping over a backpack strap. This is a great way to have those essential kid items out of sight, and easy to find when running out the door the next day. A larger bin like the Scout Junque Trunk (or if you want a lid on your storage box you can go with the Rump Roost which is the same dimensions as the Junque Trunk), will hold all of those items easily.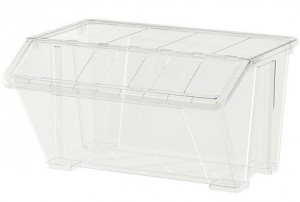 4. If you have kids you are too familiar with toy bins, and the never ending fight to find the right storage bins for all of those toys. I have tried them all, and have finally found the one storage box that works the best: Ikea Samla. Yes, it's supposedly to be used as a recycling bin, but if it makes my storage solution issues with toys easier, then I don't care what it is. (While you're at Ikea get some Glis boxes, they're great for small toys and crayons.)
I could go on and on about which storage box you need for different reasons, but this post would be pages and pages long.
Remember your storage solutions should be about what would inspire you to keep things organized.
Comments
comments