I've been working in the corporate world for the last 17 years. I have a very distinct work style when it comes to my clothes and shoes My work look is inspired by classic lines.
I've always worked where the dress is/was business casual. I've redefined it over the years, but there has always been the classic pump.
Every year I would buy a new pump. It would have the classic feel with a twist. Like this year I've relied heavily on my Aerosoles in black patent letter, chunky heel and tiny little peep hole at the toe. I'm dying to get a pair of deep purple ones.
In the end all I can say is that every woman should get a pair of pumps that are edgy.
Putting these looks together have me thinking I need a new pair of pumps.
Push that mouse button to go to Blonde Episodes for more
Fashion Friday
posts, and if you have a Fashion Friday post join us & link-up.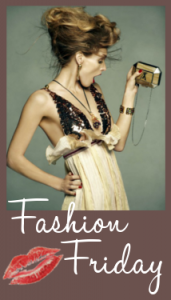 Looking for more Fashion Friday fun? Check out this great link-up by some great ladies that you can join in too.
Comments
comments