I received a question recently, from a friend and reader about helping her with a living room makeover.I should be thanking Shana for seeking out my advice, because this living room makeover was so much fun to do.
Dear Fashionista,
I am in desperate need of designing help for my living room. I love bold but my husband likes more neutrals. I do have a painting that was my Grandparents that I would like to leave over the fireplace but I am not sure if bold colors would look good with it.
Shana of Shanamama
After e-mails back and forth here is what the living room makeover is based on:
Shana's had 3 things that needed to stay in this room: her grandmother's china cabinet, a grandfather clock, and the TV stand, because they really loved the cherry finish on it.
Her grandmother's painting was optional, but I loved it just where it was.
Getting bold color in the room, so both Shana and her husband would be happy.
Starting with color. I found the Single Bloom palette to look great with Shana's grandmother's pieces. Shana intends to stain the china cabinet a dark cherry color, so I kept that in mind when picking the color palette. I found a palette that had light colors, that weren't typical neutrals. There are great pop colors, and they don't require all that much to make a difference in the living room.
When you have what is known as a great room, painting becomes the thing that stumps people. Having a big room like Shana does can confound people on where to separate the colors.  The thing is that varying the colors within a great room allows you to segment the room using color instead of actual walls.
Create an entryway by painting it a different color that compliments the room being entered into. It creates the feeling of an entryway or foyer. Add a painting or a mirror, like the Chantilly Vines Mirror to the main wall to make it look polished. If she moves the Grandfather clock to the wall just outside the powder room door (slanted wall).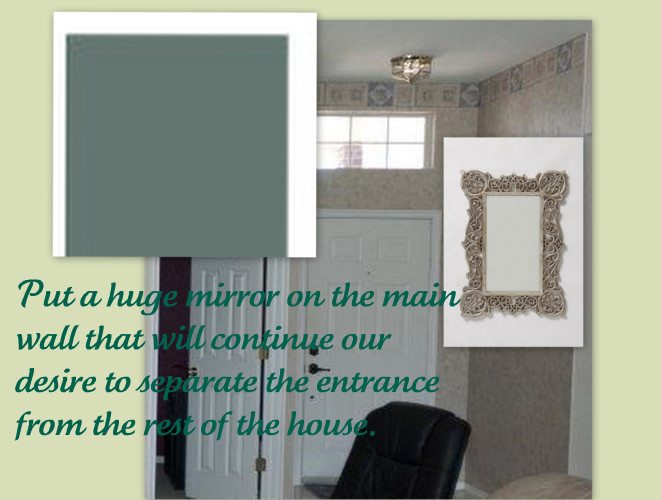 Unfortunately, many people forget that drapery is a genius way to really get your feeling lived in. Sometimes you can have the drapes be the addition of bold colors you're seeking to have in your room. Yes I understand the lure and ease of blinds, but in order to make your ceilings appear higher, and to make your room warmer, drapes change everything. With having made the window wall a dark striking color, a drape like the Lyrical Branches, balances and grounds the color.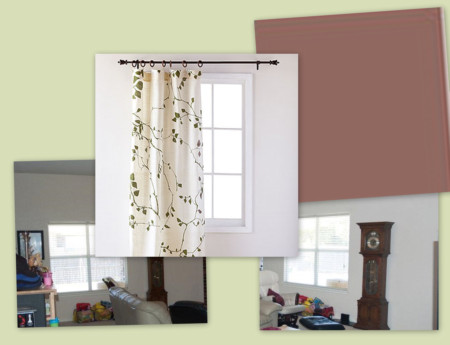 Shana mentioned that they intend to rip the carpet out of the living room, and put hardwood floor down. As soon as I heard that I knew a rug was in order. In the conversations we had I found out that Shana has had NO work space. She sits on her couch in her living room do her writing. UUM HECK NO!! I immediately knew exactly what she needed: a computer/desk armoir. It wouldn't be obtrusive, and it would allow her to pack her stuff up.
If you add a couch, throw pillows, rug and armoire to the room, Shana's well on her way to a living room makeover.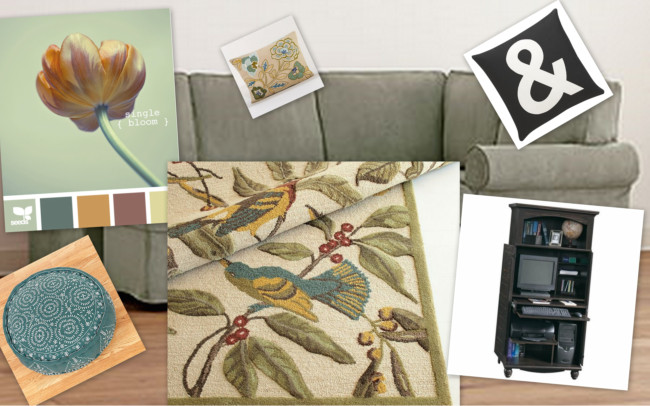 Sage Korbin Round Arm Sectional, Harbor View Computer Armoire, Spring Sparrow Rug, Floral Burlap Lumbar Toss Pillow, Porcelain & Jade Round Embroidered Floor Cushion
I hope that Shana finds that my decorating ideas speak to her, and she finds she got a living room makeover she likes. I used minimal bold colors so that her husband isn't overwhelmed by color, and Shana will be happy to have bold color in the living room.
I want to thank Shana for asking me my advice, and making me so special. I really do hope that this look works for you.
Do you need fashion, beauty or home decor advice, fill out this form, and I'll post an answer for you?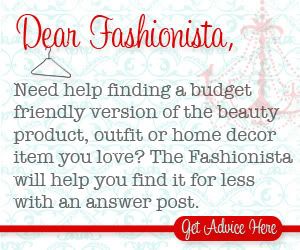 Comments
comments