Tackling organizing a small office space in your home, can be really daunting. By reusing bins and things you've purchased in the past, you'll be amazed at how much more organized you'll be.
Last month I built a desk in our kitchen nook. You can see the full transformation in my post Built-In Desk Inspires Organization on The Centsible Life.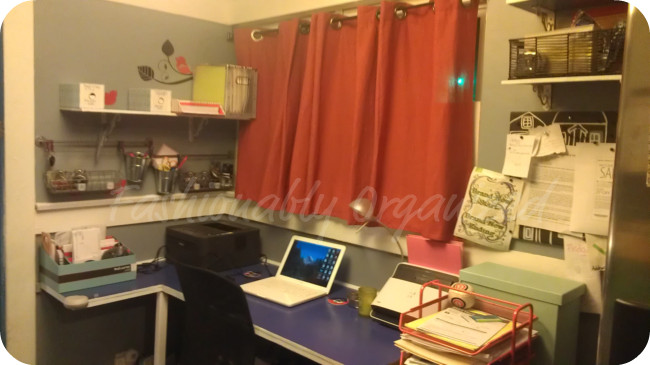 Building that desk, has had  a transformative affect on both my husband and I. We have a dedicated space to get work done. A place that has everything we would need to complete a work task all in one place. R uses it 93% of the time, and that's OK with me because he actually has a place other than our dining room table.
Building the desk was only the beginning to me. The next step was shelves, and other devices of organization loveliness. It came out so well, and so easy to put things away, I wanted to show you how for just a little bit of money and sweat you can have an organized work space, especially if it's small like ours.
I purchased the following – list A:
(2) IKEA Bygel kitchen rods $1.99
(2) IKEA Bygel Wire Baskets $1.99
(2) IKEA Fintrop Cutlery Caddies $3.99
IKEA  Bygel S-hooks in Navy and Fuschia (site says $.99/pk) $.69/pk
IKEA Rajta Spice Jars  $3.99/set of 4
IKEA Dokument Letter Tray in Orange $8.99
Shelf Brackets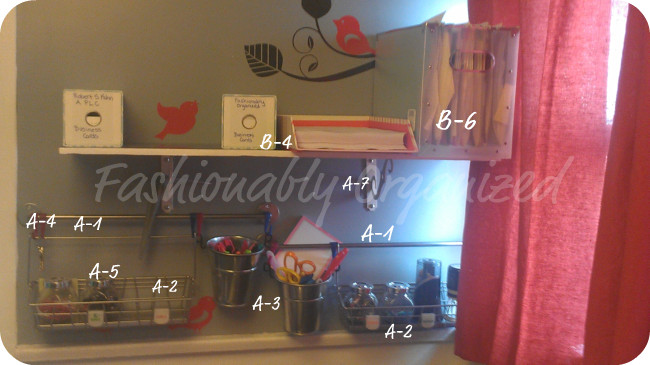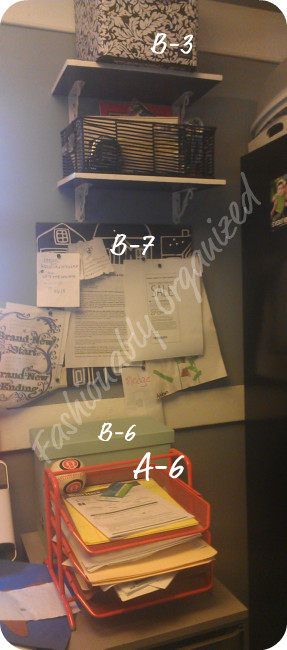 Items I already have (some for a few years) – list B:
wood to make the shelves – left over from making the desk
paint for the shelves – left over from making the desk
Scout Bungalow bins
Thomas Paul boxes and letter trays
Buttoned Up mail sorter
(2) desk top paper sorters (his and hers aren't we cute?) – light blue is the See Jane Work Basic File Box
The ease with which we find things lately is amazing. I don't have to run around looking for all of my Sharpies, because at the end of the day if I can't find a Sharpie there are problems. That's a whole other post…
Comments
comments