Color jeans are all the rage, and I am now in love with my ankle jeans by Not Your Daughter's Jeans ("NYDJ"). NYDJ is one of the first jeans to help flatten your tummy, and they do it quite well.
I remember when NYDJ came out, and I had to have a pair. I fell in love instantly. I got my mom hooked on them too. I even gave her all of mine after having my 1st, and I couldn't fit into them anymore. Two more kids later, and I was re-introduced to NYDJ when I was asked to go to the Spring preview. I saw racks after racks of fantastic jeans.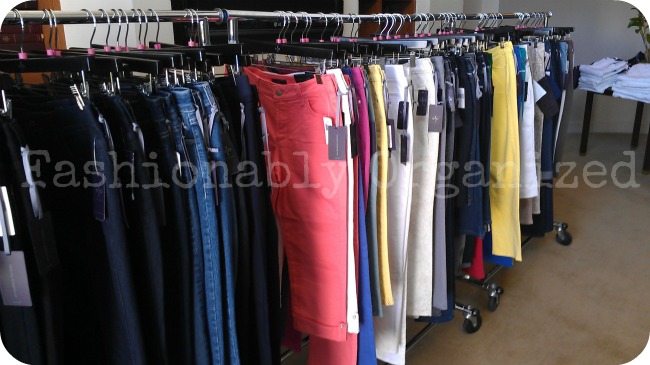 My favorite pair, I will be hunting down until the ends of the earth, were these pair of patterned jeans that had a damask look to the pattern.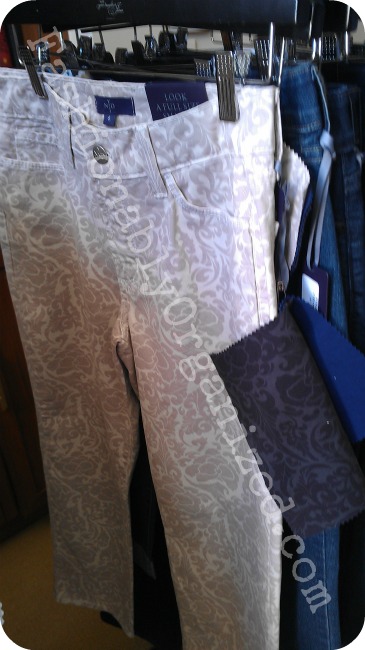 I wound up taking home a pair of the Alisha Skinny in Purple Lily, and couldn't wait to get them home to put together a color block outfit with this gorgeous colored jean.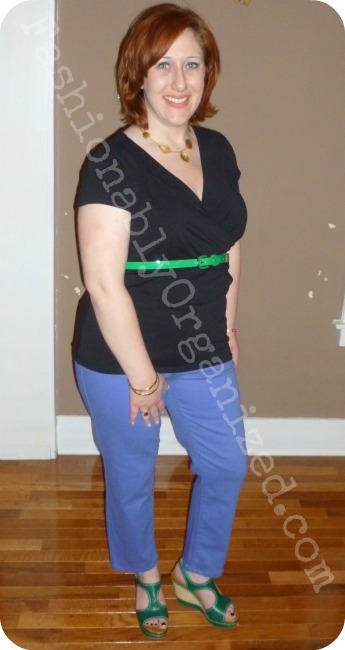 When I was putting my jeans on my leg scraped against what sounded like paper. Iwent to pull it out, and it was a big sticker stuck to the inside of the jeans. I read it and began to chuckle. Instead of tell you what it said, I thought I'd just show you.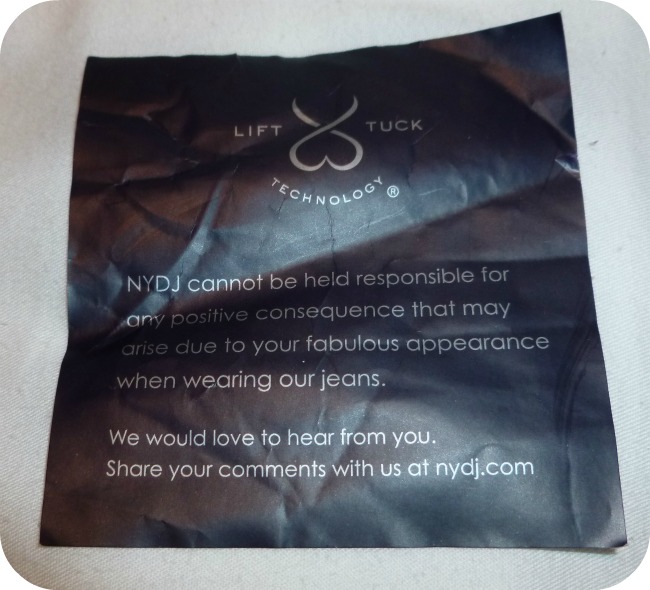 NYDJ is giving one Fashionably Organized reader a pair of their jeans (MSRP ~$115). The lucky winner will be able to get any pair they want, which is going to be hard to narrow down to one.
To enter the giveaway go to NYDJ and tell me your favorite pair of jeans in the comment box below.
If you would like to put in additional entries you may do 1 or all below (please leave a comment for each of the following):
– Follow NYDJ on Twitter
– Follow Fashionably Organized on Twitter
– Tweet this giveaway (max 2x's a day) or use the retweet button below:
I entered to win a pair of jeans from @OfficialNYDJ #giveaway http://bit.ly/GZbwQo @FashOrganized
All comments must be posted by April 9, 2012, 8 PM PST. The winner will have 48 hours to confirm after receiving the e-mail from Fashionably Organized. This giveaway complies with FTC guidelines, and FB promotions rules. Please see OFFICIAL RULES, for this giveaway. For the purposes of this giveaway the "Sponsor" is NYDJ.
I was given a pair of jeans to try. The opinion above is my own swayed only by my inner Fashionista.
   **********************************
Want some more fashion fun? Head over to Blonde Episodes, and check out her Fashion Friday link-up.
That's not enough? Check out this great link-up by some great ladies that you can join in too.
Comments
comments