With pop color all the rage this spring, and mixing bold colors together being an absolute must, shopping at Kohl's made it super easy for me to get a whole color rich outfit by just sitting on my couch with a computer on my lap.

I don't have a physical Kohl's by me, so I set my sites on the Kohl's website, which was really easy to navigate. I should warn you shopping there can take a long time based on the items they have. There was so much I loved picking just a few items was hard.
I bought the Chaps Curvy Straight Jeans in red. The minute I saw the word Curvy I knew they would fit me wonderfully. Curvy jeans always have a generous butt and hip area while keeping the waist cinched a bit, basically no gap in the back. When I put the pants on I could not believe first how well they fit, and how comfortable they are. I'm short, so I normally would have to shorten pants, but in this case I had high shoes to wear (more on that below), so I chose not to have them altered.
After finding the perfect pants I went to the shoe collections. I figured that I could get my palette together if I knew what shoes I'd put with the red jeans. I found the LC Lauren Conrad Madison Yellow wedges, and was immediately in love. I've wanting a pair of yellow shoes for some time. The great prices on the shoes made it hard to decide, but in the end these fantastic yellow shoes won the battle. It's a good thing I got them when I did, because they're gone from the site now. I know they still have them in the stores, but that will tell you how fantastic they are.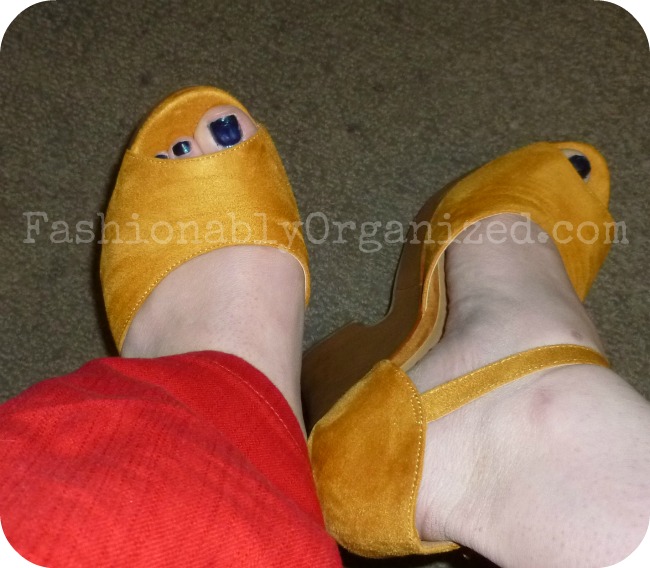 After shoes I had to figure out how I was going to make the red jeans and yellow shoes come together. I got the Elle Striped Peplum Top, because I loved the style and it had a yellow sash which is a perfect way to tie in the shoes. The peplum top was so flattering especially a woman, such as myself, who is always trying to cover a gut.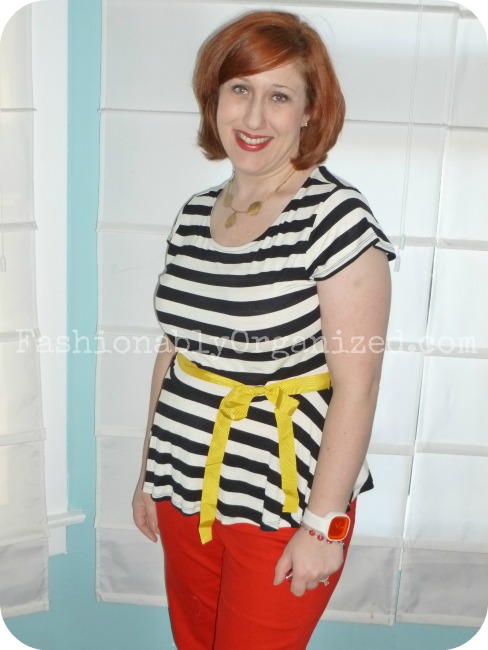 To round out and finish my outfit I got a jacket. I took a look and found the magnificent SONOMA life+style Open Front French Terry Cardigan. It looked like a great jacket, but in a sweater. That's a dream come true for me.

Given this was my very first time shopping at Kohl's I've been back to the site 3 more times looking for more items to buy. The pants fit perfectly, the top is soft and flattering, the sweater is unique and let's face it the shoes make the outfit, and they are comfortable too. I'm really happy with my outfit, and am so glad I can wear it to work, out with my girlfriends or out on date with my husband, if we ever get any free time.

Disclosure: Bloggers received a gift card on behalf of Kohl's via Glam Media to complete the trend look. The opinions expressed herein are those of the author and are not indicative of the opinions or positions of Kohl's, only my inner Fashionista. All trademarks and service marks are owned or licensed by Kohl's Illinois, Inc., a wholly owned subsidiary of Kohl's Department Stores, Inc. 
Comments
comments