The new line of natural products from Neutrogena is evidence that this is a great company, and are continuing to take their products to the next level in a natural lifestyle. They have come back again with better cosmetics containing natural ingredients.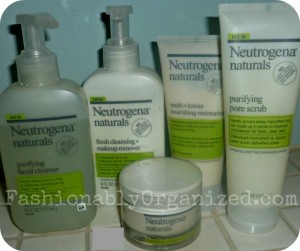 NEUTROGENA® Naturals Multi-Vitamin Nourishing Moisturizer is a daily lotion that replenishes essential skin nutrients while providing continuous moisture throughout the day for healthier, younger-looking skin.  It contains no harsh chemical sulfates, parabens, petrochemicals, dyes or phthalates.
NEUTROGENA® Naturals Multi-Vitamin Nourishing Night Cream replenishes essential skin nutrients and is fortified with vitamins B, C, E and anti-oxidant omega bionutrients. This nourishing cream is clinically proven to boost skin's defense against dullness and roughness, leaving it  naturally radiant, healthier and younger looking today and in the future.  It contains no harsh chemical sulfates, parabens, petrochemicals, dyes or phthalates.
I started out with the  Fresh Cleansing + Makeup Remover because I have yet to find a make up remover that doesn't leave me feeling greasy, even when it's oil free. The fact that this is used as a cleanser as well is so genius, and yet you wonder why it took so long.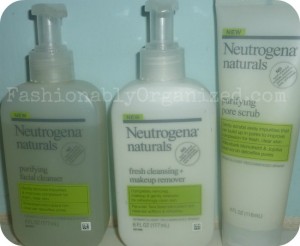 Next I used Neutrogena Naturals Purifying Facial Cleaner. Although, you can absolutely just use the make up remover, I still felt that my face needed just a little more cleaning. I have really oily skin adult acne skin, so I like to be sure of cleaning well. I'm really picky about face cleansers. After the first use I had no concern.
I took the Face & Body Bar and the Purifying Pore Scrub into the shower with me, and loved the scrub on my face. The bar was perfect cleansing, and did not feel or look drying.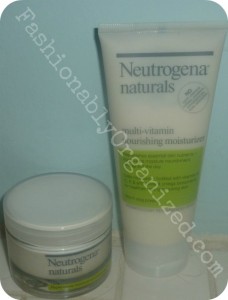 and the Multi-Vitamin Night Cream are wonderfully light, and aren't moisturizers with no sticky feeling. I hate the sticky feeling which makes me so upset. The one thing that you should know is that the Nourishing Moisturizer does not have any SPF in it. I say that because it is very important to me to have that in my moisturizer, and I want to be honest with others who are like me.
I stopped using anything with any kind of fragrance about 10 years ago. Imagine my surprise when I pumped the cleansing soaps, and smelled some beautiful scents. I was worried right off of the bat, but I had no reaction. The next day when I was washing my face how much I love love love the scents. They feel really natural.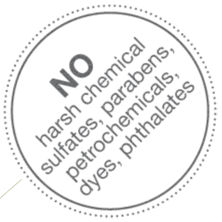 About 10 years ago, I got really into recycling, and thinking about the products I use. Once I had children it became even more important. I used cloth diapers on my youngest, and wondered why I didn't do it sooner. Now my 2 oldest goes to a school that teaches them gardening, cooking and all of the ways to help save our planet. It makes me so proud to see them so concerned with conservation. Today my oldest son picked up trash at the local outdoor mall on 2 separate occasions because he was so incensed by the fact that there was litter. I just would love if more children could understand how every little thing you decide to do for our planet makes a difference. Where would those 2 items have wound up if he didn't throw them away.
It's because of this I was so impressed with  Neutrogena Naturals continues to uphold a higher standard of green through its dedication to pure and free, authentic naturals, sustainability and its partnership with the Nature Conservancy.
Any company continuing their mission of doing what they can on top of great products makes it that much more hearwarming to me. Of course it also makes me want to buy more of their stuff. Either way this line is much more impressive than I thought it would be.
What are you doing to conserve? I always love to learn new things to continue to do what I can.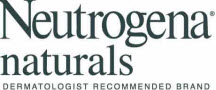 Disclosure: Compensation was provided by Neutrogena via Glam Media.  The opinions expressed herein are those of the author and are not indicative of the opinions or positions of Neutrogena, only those of my inner Fashionista.
Comments
comments