We moved into our house 3.5 years ago, and have been redoing what we can when we can due to financial constraints. The thing is that I like doing it little by little I get to be a huge part in every detail. It feels like a piece of art. Tweaking it here and there until it's done.
With $100 I was able to liven up my front yard enough to feel like I made it pretty for the summer.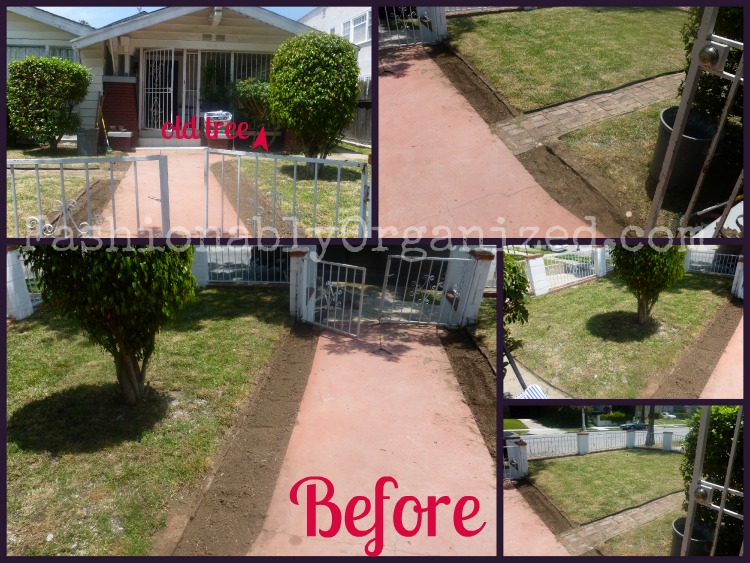 The first order of business was this tiny ugly tree, that did nothing to the house. We pulled it out and replaced it with 2 Bougainvillea bushes. I wanted to add color to the front yard, and have something that would grow up the wrought iron and cover it's ugliness.
While I did not use garden wire to make sure they grew up and around the posts, I will need to when they get higher. If you are planning on putting Bougainvillea in make sure to have eye hooks and garden while to help them grow up the fence or wall you intend them to be on.
The other big thing was to paint the wrought iron in front of the front door and around the retaining wall. I chose the color that we eventually intend to use as the trim color when we finally paint the house. The transformation from just a coat of paint always astounds me.
Of course our painter du jour made an appearance.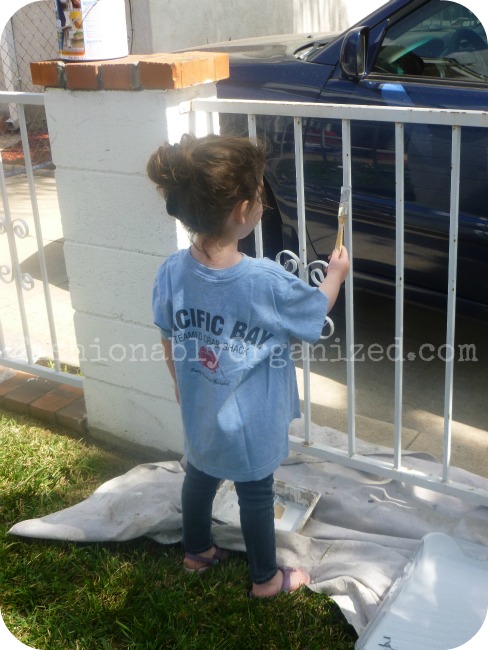 We added some impatiens and solar lights to the walkway for the summer lift my front yard definitely needed.
Supplies:
After it was all done I spent more than the $100 only because I didn't realize I'd need to 2 gallons of paint and 2 bags of soil. Otherwise I'm really pleased with the way things were done. I'm especially happy with the color of our wrought iron. Now we have to continue that color all along the side part of the gate.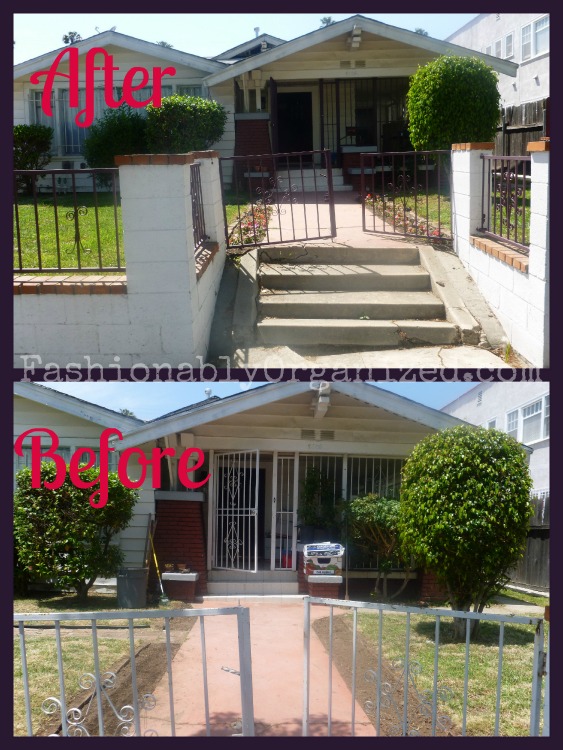 *******************************
Lowe's Creative Ideas is giving one Fashionably Organized reader a $100 gift card.
MANDATORY ENTRY: comment with what you plan to do to make your outdoors feel more like summer.
If you would like to put in additional entries you may do 1 or all below (please leave a comment for each of the following):
– Follow Fashionably Organized on Twitter
– Tweet this giveaway (max 2x's a day) or use the retweet button below:
I entered to win a $100 gift card #giveaway from @Lowes http://bit.ly/JLxehZ on @FashOrganized
All comments must be posted by June 3, 2012, 8 PM PST. The winner will have 48 hours to confirm after receiving the e-mail from Fashionably Organized. This giveaway complies with FTC guidelines, and FB promotions rules. Please see OFFICIAL RULES, for this giveaway. For the purposes of this giveaway the "Sponsor" is Lowe's.
As a member of the Lowe's Creative Ideas Bloggers & Influencers Network I was given the $100 from Lowe's to give my front yard a face lift.
Comments
comments