A closet is a cherished space. All the clothes, shoes, bags, belts, earrings and so much finds home in our closet. So are you doing full justice to your closet or is there scope for improvement? If it's the latter, then you ought to take a look at the tips below to make your reach-in or walk-in closet better, more functional and sexier. If it's the former, you are in for a fun read. And who knows something might click somewhere and you may get a sudden flash of creative inspiration!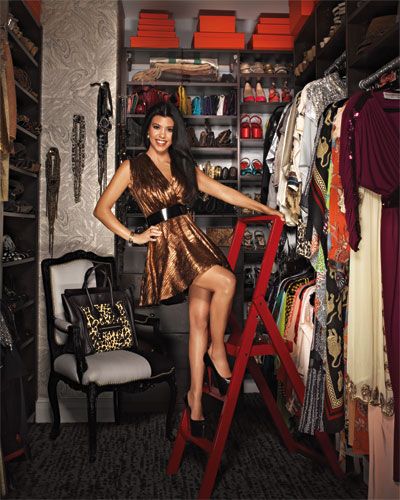 Image Courtesy: pinterest.com/pin/128704501825284669
The More the Merrier: Use Different Types of Storage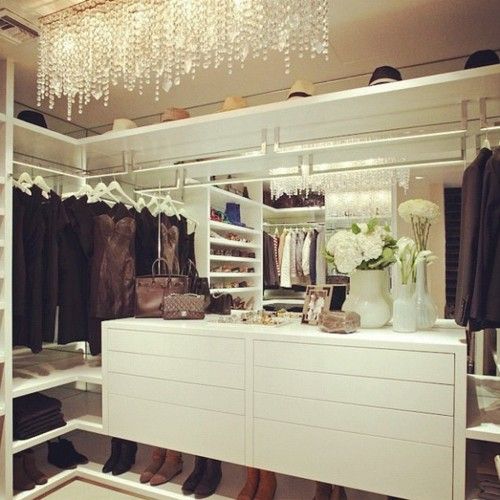 Image Courtesy: pinterest.com/pin/417005246717957695
Have a variety of storage options rather than simply shelves, rack and rods for your closet. Pull-out drawers may work great for all those sweaters that need to go underground, now that winters are over, but they won't do for your summer singlets and cotton wrap dresses. Go for pull-out rods, cubby-style shelves and open-flat racks for easy to access storage. Your daily items can easily be stocked, piled or hanged and be right in front of your eyes. Similarly, your flats may find perfect comfort in the flat shelves and racks, but your heels will prefer the angled shelves. Using the doors of your closet for storage can be a space optimising option. Have hanging organisers on the closet doors for your accessories and scarves. When you are fighting for space and still crave organisation this is a good spot. You can also have your bags hung on hooks on the back of the closet door. All that you need to get dressed will be under one roof.
If you are lucky to have a walk-in closet big enough to accommodate a dresser, you should definitely do so. With all your clothes, accessories and cosmetics in one place, getting ready will become a faster and easier task.
Mirrors and Lights: The Transformative Combination
Having mirrors in your closet can give it immediate glamour. It also makes the closet look bigger. Mirrored closet doors are preferred by many. They could be sliding, regular or foldable. Mirrors within the closet or as doors are essential as they help you get a view of yourself from all angles. Make sure though you have kept optimum lighting on and around these mirrors.
Interesting lights and mirrors in a walk-in closet is perfect when you want to dress up and turn on the glamour. In-built lights in your shelves are better than overhead lights. You will know exactly what is kept where thus saving precious time and energy. For all your hanging garments, you could opt for LED lights built directly in the hanging rods. It allows you to see every piece of garment clearly and pick accordingly. The right lighting can make a walk-in closet resemble a stylish personal boutique.
Smart Organisation: Know the Address of Your Belongings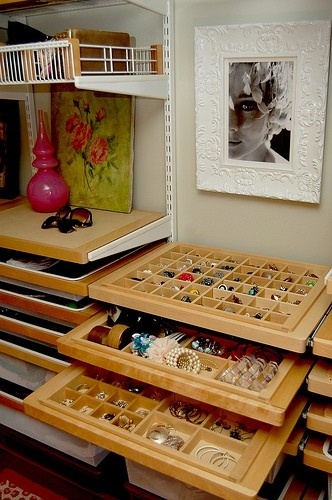 Image Courtesy: pinterest.com/pin/408068416206303519
Smart organisation is the key to a great closet. When you prevent unnecessary dumping and clutter in your closet, you open up a lot of space. Space is synonymous with better organisation. So the first step in having a great closet is giving an address to all your belongings. Drawer inserts are perfect and a must for all your accessories, cosmetics, and ties to keep your closet organised and decluttered.
Cedar hangers that allow hanging tops and bottoms in one are great for outfit combinations when you are in a hurry. You can purchase these from onlyhangers.com. Having storage baskets for clothes that are not going to be needed for some time will also help in making your organisation easier.
Keep the casual separate from the formal and the hangables separate from the foldables. Pajamas and underwear should have their own separate locations and so should scarves, ties, heels and flats. This will leave your belongings in the best of conditions and prevent unnecessary muddling and wrinkling.
Corners and Ceilings: Make All Spaces Accessible
Vertical spaces often get ignored. However, when you expand your built-in wardrobe upwards, your storage options increase considerably. Full-length built-in wardrobes are a great idea. Also, if you have a rather big or even a walk-in closet, freeing the space at the bottom will let you incorporate a pullout laundry cabinet into it. Use the space to store easy-to-remove baskets and solve your dirty laundry storage woes.
If you are wondering how exactly you are supposed to reach those higher shelves and racks, here is the solution. Get a customised ladder that adds style to your room when placed beside the closet. Use it when you need to access those higher quarters.
Alternatively, you can use pull-down clothing rods in high spaces to store your dresses and other items that you don't need daily, but still want in front of your eyes. For a walk-in closet, a spiral corner carousel or valet rod with hanging hooks is a great way to utilise the corners in style.
The Magic of You: Add Personal Touches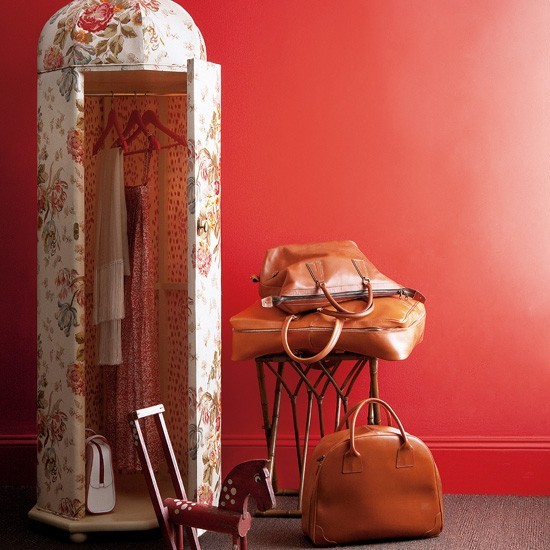 Image Courtesy: media-cache-ec0.pinimg.com/originals/56/93/9a/56939a1320cbf3cf2e8705b378579d90.jpg
An organised and arranged closet is liberating. But to make your closet a true delight, make it an extension of yourself. Add your personal touches to your closet. Whether it is doing up the wallpapers and flooring in creamy pastels or Victorian motifs, or simply incorporating Parisian street art or photographs of family and friends or adding dramatic lights to give it the feel of a fashion boutique, go ahead with it. A gorgeous chandelier is a great addition to a big walk-in closet. Interesting seating, in a walk in closet or around a regular closet is there is room can add chutzpah to your closet and its surroundings. Fresh flowers in a walk-in closet are lovely. Whatever sprucing up you do, the idea is to add a touch of you in the closet. That is what will make it awesome and obviously different from the rest.
To Conclude,
These ideas can help you attain a great closet. Indulge in the shopping, do the organisation, purge often and always keep some space handy to let your closet breathe and look clean.
Millie Rainer writes on a variety of topics such as Parenting, DIY, Fashion, Home Décor and more. Currently she is associated with OnlyHangers.com. Her core focus is on building her authority as a blogger and she is doing this by writing actionable, useful and engaging content. Follow her on Twitter @MillieRainer.
Comments
comments