For the next few weeks we're going to work on getting organized. Not your kitchen or bathroom or bills, I'm talking about you, and your needs. I'll be posting every Wednesday (I know it's Thurs, but I promise it will be Wed next week) with your assignment for the week.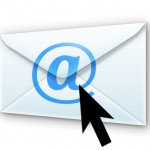 The assignment is a baby step. Tackling one thing at a time. Too many times getting organized is too daunting, therefore hard to wrangle. Like everything else in life 1 step at a time, and we're going to take that approach with organizing. We'll call this From Zero to Organized.
None of my tips should be followed to the T, but adjusted according to your life and your needs. I am simply giving you framework. Always feel free to share things that work for in the comments below. There are never too many tips for organizing.
THIS WEEK: WRANGLING E-MAILS
When I hear "I have 352 new e-mails in my in-box" it often leaves me wondering how that doesn't grate on people day in and day out. This boggles my mind because I hate having 2 new e-mails in my in-box let alone over 100 new ones. I know it's weird but I'm of the mind that getting them out of my inbox not only has me dealing with it, but deleting SO MANY unneeded e-mails. Our mobility of e-mail and social media with advent of smart phones you would think that checking e-mails would be easier to wrangle. That's in fake land where everything is perfect.
I realize that when a task is so daunting we run away, which only perpetuates the growth of more new e-mails. When faced with the sheer volume of them all organization goes out the window, and the frenzy to keep up continues.
Our first task to go from zero to organized is to finally concur the in-box blues, and take hold with easy groundwork to make it a pleasure to open your e-mail every day.
Merge All e-mail Accounts:
Firstly, if you're anything like me you have several different e-mail accounts that are all equally important. If you don't already do so get your e-mails to merge into one place. Whether it's Gmail, Outlook or any other method do not continue to log into several different places to check your e-mail. It is simply a total time suck, which leads you to miss  e-mails, and perpetuate your e-mail frustrations. I do this on Gmail and will discuss a little about how to do it. I did it on Gmail but if you decide not to merge to Gmail this will give you some ideas of what to look for.
In order to begin you must look in each mail server for the POP3 settings. This will give you the information you need to take your account from one place and merge into another place. Here's one place I found where POP3 settings for popular e-mail servers.
To add e-mails to your Gmail account you'll go to Settings (drop down menu)
Click the Accounts and Imports tab.
Scroll down to "Check Mail From Other Accounts (using POP3)"
Click on the "add a POP3 mail account you own."
Follow the pop-ups to a simplemerge
Quick hints: your Username is the e-mail address you are adding. Also, the verification e-mail sent will not show in your merged account. You'll have relog-in to your e-mail account to verify the merge.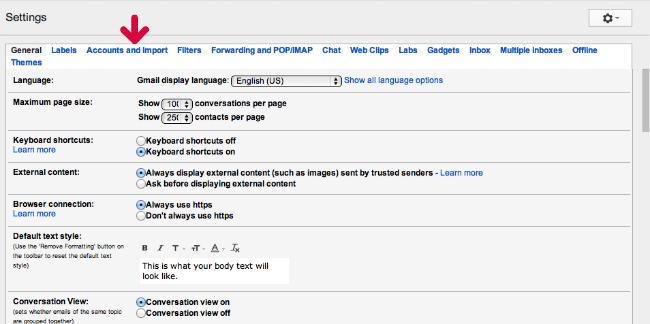 One thing I make sure to choose is the option that states reply from the e-mail address it was sent to. I don't like to intermingle my different e-mail addresses, so each e-mail I get if I hit reply it will reply from the account written to. That doesn't mean you can't change it, it just means you don't have to think of it each and every time you hit reply.
Make Folder/Labels:
Every platform has the ability to make folders in order to move e-mails from the inbox into those folders. UTILIZE this option. It's there for a reason.
Your second order of business once you've merged e-mail accounts is to create folders and sub-folders. Make folders that make sense and sub-folders within those folders to make finding e-mails even easier. Making sub-folders under main folders keeps the folder list short. Drilling down on main folders is a lot easier then a super long list of folders in the side bar.
My suggestions for basic folders that lend easily to sub-folders:
Finances or Bills
Family
Follow Up
Pictures
Receipts
Important to Keep
If you are an independent contractor or consultant it's even more important to keep e-mails nice and tidy. I highly recommend a separate folder for each account you work on or blog you own. For example I have a Fashionably Organized folder.  The sub-folders are:
Contributors
Dear Fashionista
Design (as in designing of my blog)
For Hire (Inquiries I get for different paid opportunities. Even if it doesn't pan out I keep many of the inquiries for contact purposes.)
Reviews
These are just examples, but gives you an idea of what could help you organize, and find e-mails easily.
Learn To Delete:

Believe it or not e-mails are not meant to be kept if they have nothing to say. Think about whether you really need that e-mail long term. Is it a string of e-mails? Then delete the old ones and keep the latest in the string. If the e-mail has no bearing then delete it right off the bat.
Now That You Have Folders:
Once you have all of the folders in place go through your e-mails and sift through them. Give yourself tough love and move them into folders if you have to keep them, and delete those that are totally unnecessary.

The one folder I added this year that has saved my life is a 'Follow Up' folder. Befor this folder an e-mail needing my attention, or an answer, I'd leave it sitting in my in-box. Of course I would forget to do whatever it is I needed to do. When I made a Follow Up e-mail folder it lessoned the need to remember to go back to the e-mail that needs a response. It took the burden of remembering 1 more thing off of me. (Please note: while I'm sure you guessed it my e-mail folder does not look like the above picture. I put those images over the folder as to protect the innocent.)
Use color coding if you have to. Make things different, and stand out in order to enhance the importance of the e-mails you know may need to stand out in front of others.
Ultimate Goal:
Here's the thing about all of this. It's not about being perfect, or having this perfect system I've described, but it's about making your life easier. If you file your e-mails when you get them, then 2 things happen: 1) you don't have the in-box from hell staring at you, and 2) you'll be able to find an e-mail you need really quickly.
This week is going to be tough because going through e-mails can seem like a lot, but the end result is so gratifying. You have no reason to do it all in one day, but have a goal in mind daily for the next week.
See you next Wednesday for the next step in your quest to go From Zero To Organized.
What are some of your tried and true e-mail wrangling tips?
Comments
comments