You may have noticed many people including myself posting fashion boards created on Polyvore. In layman's terms Polyvore is the way we play with digital dress up dolls.
Polyvore is a place to create fashion style boards, but digitally. It is a great way to play with mixing different patterns and colors without investing time in a store dressing room. How else would you know if that pair of shoes matches the dress you bought all on line? Well simple you put a board together, and see how it looks. Better yet what if you wanted to make a fantasy outfit? You can do that at the click of your mouse.
Creating your board and posting to WordPress is not too difficult once you understand how the site works. I've created a step-by-step tutorial to help you create a board, and post it on your WordPress site.
1. Go into your account and press the arrow next to create and scroll down and choose a set.
2. On the right hand side are all of the categories to choose from click on a category you want to begin with.
3. Of course I chose shoes, and found this pair I wanted to base my board off of. You can either drag the item you want into the board, or….click on the item, and press add to set.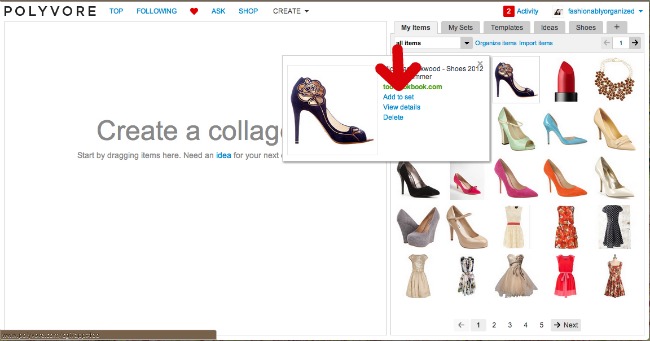 4. When you add it to the set you have 3 choices as to how display the item you chose: 1) the item with no background, 2) the item with a white box background and 3) crop to costumize the background.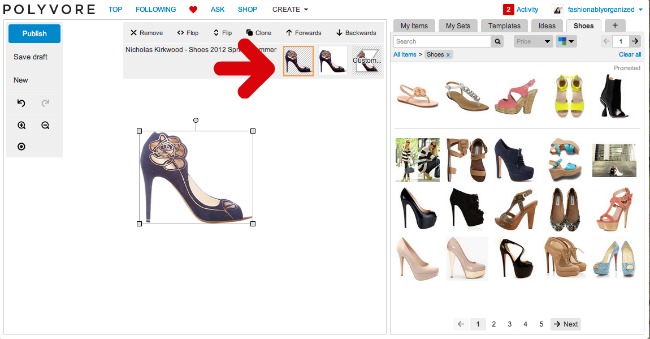 5. Next I went to the skirts section and wanted to look specifically at pencil skirts for these shoes. I put pencil in the search box and it reduced the skirt section to pencil skirts.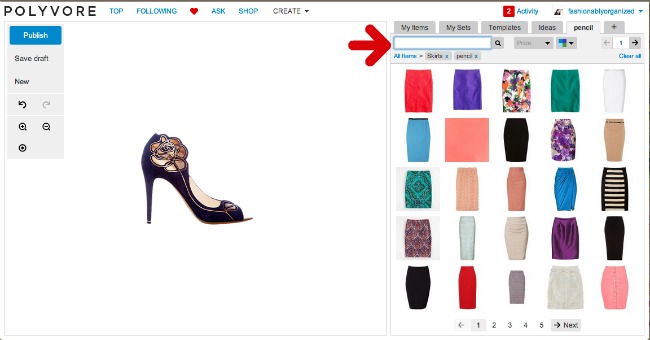 6. I wanted to reduce the pencil skirts to a particular price range. Click the arrow next to the light gray word price. Scroll down and choose your range. You can see I chose $50-$100.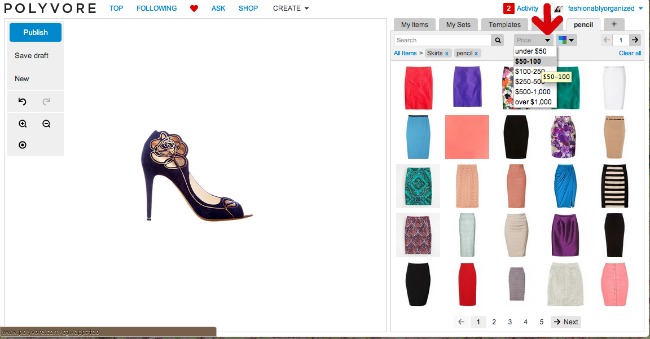 7. If you want to reduce to a particular color click the arrow next to four different color box, and choose the color from the drop down choices. You can see I narrowed down the shirts to a navy color.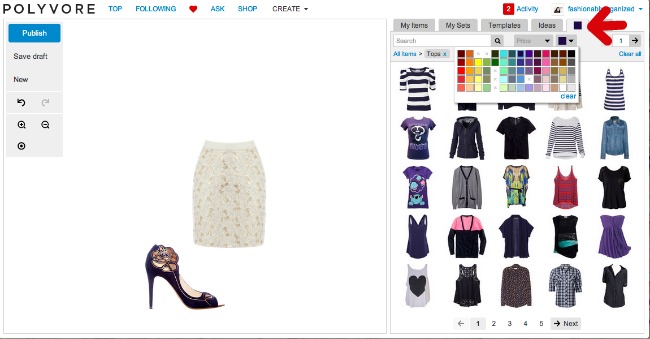 8. If there's an item that needs to be moved in front of or in back of another item, then you can press the forwards or backwards buttons in order to make items overlap. Below you can see that the skirt is overlapping the shoes. I don't like that so I press forwards and you can see in the next picture that the shoe is now in front of the skirt.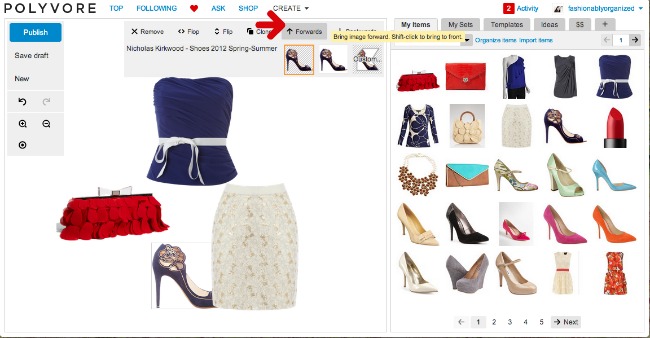 9. You can add many different items and then delete what doesn't work. As you add items you can reduce their size and move them around as you wish. It's a digital collage after all.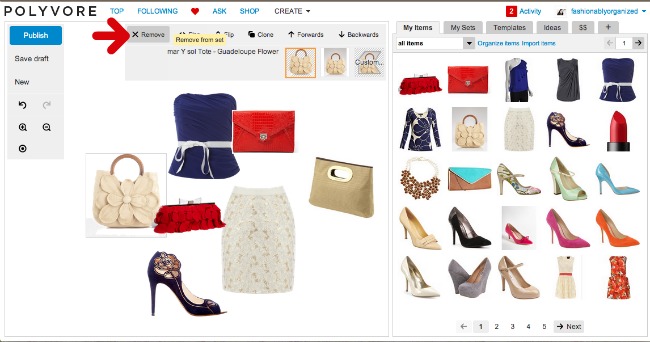 10. Once you have all of the items in there you can choose to put a frame around it, or a background by scrolling down under Categories to Embellishments. You may even want to start with a background, and build an outfit around that. It's the perfect way to have the look give a finished impression.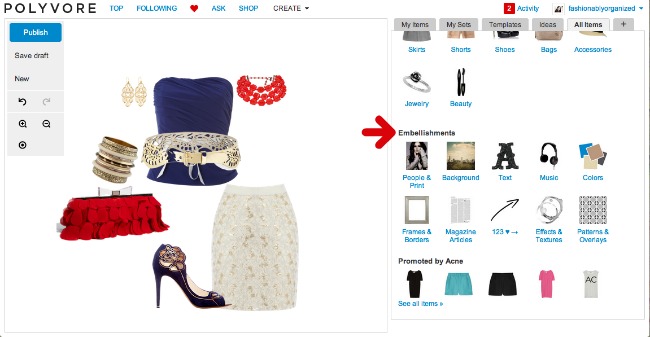 11. Here's my board with a gold frame around it. However, you'll see in the next picture I decided to have this board be frameless.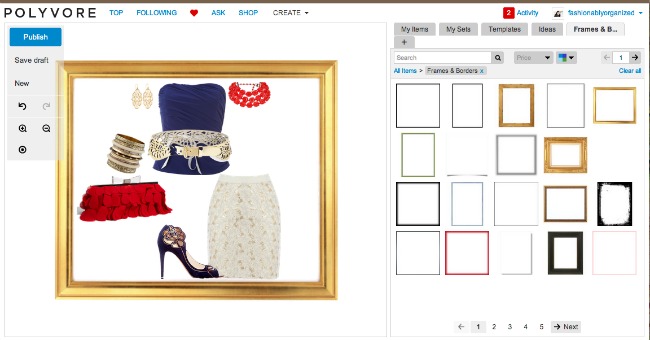 12. Just before I'm done with a board I put my site name/url as a signature at the bottom of my boards. To add any text by click on text under Embellishments. I wanted it to be navy so I clicked the color box. Once you decide on the font you'd like add it to your set.
13. The default I Love Polyvore will come up but you edit it to say what you'd like on the upper right hand side. Type what you want in the box that says text. Once done you press update, and you will see your word(s) replace the default text. That's when you can resize and move the text to the location you would like.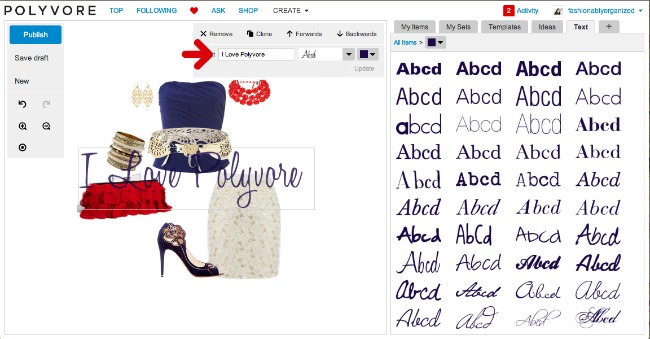 14. Once everything is satisfactory go to the right hand side and click the Publish button.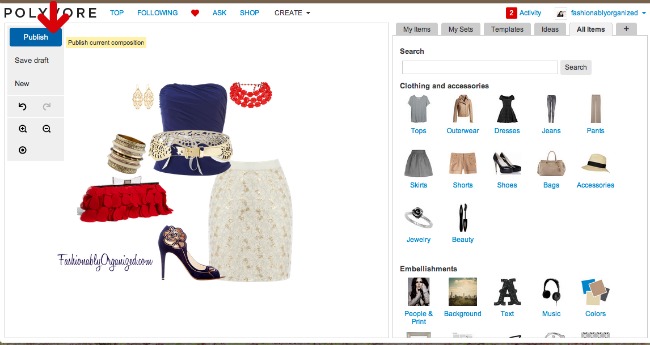 15. Title your board where it indicates title. You don't have to put a description in, but remember for SEO purposes if you want your board found putting a description makes it so that your board might come up in a search in a search engine.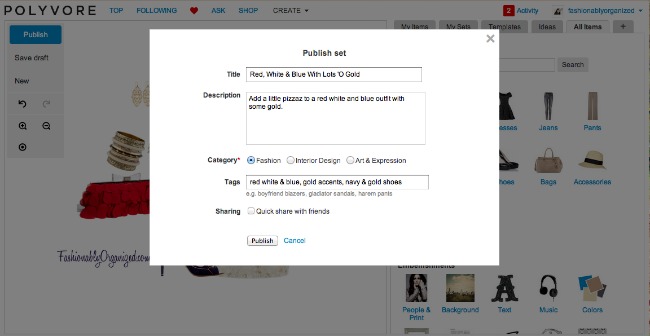 16. Once the board comes up go to the left hand column and press the Post to WordPress link. It will bring a pop-up that will have the .html code for you to post to your site.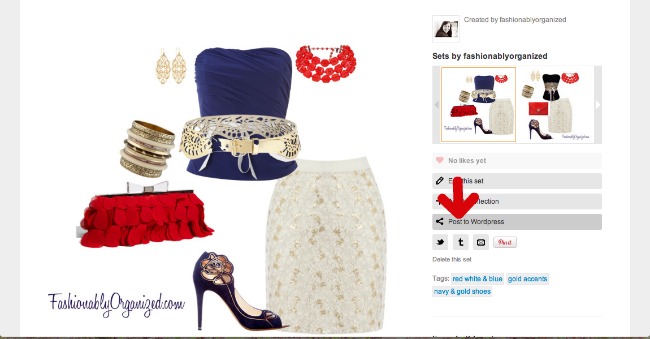 17. You want to pick your layout from the first part, then you'll pick the image size. You'll have to play with sizes the first time because sometimes the board will bleed under or over your sidebar. Once all of that is done copy the .html code in the bottom box. Now you go to your WordPress site, log-in and begin a new post.
UPDATE 10/2012: Note Polyvore now allows you to post to your site as a draft. Previously the draft option was not available whereby posting to your site would automatically post not allowing you to add anything to your post before publishing. The draft option is fantastic as it populates the tags for you, and reduces the need to copy & paste html. This makes steps 18 & 19 below much more of an optional way of posting now.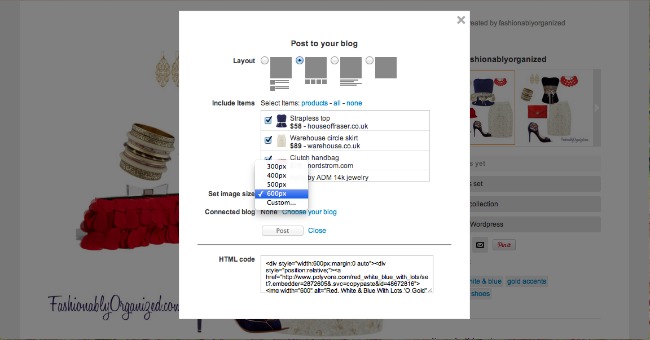 18. Once in your post paste the .html code you copied from the box in Polyvore on the html side of the new post. If this sounds unfamiliar you simply click the html tab at the top of the post menu.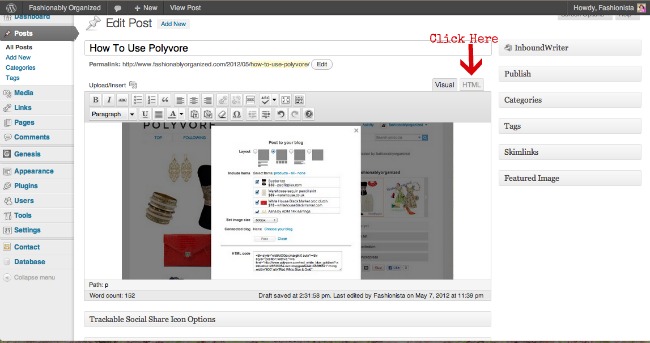 19. Click back to the visual side and there's the board exactly as you created it.
 Congratulations! You just created your first Polyvore board, and it is showing on your post. Hit publish on your post as you normally do, and voila a post with a new Polyvore board is on your site.
Wasn't that easy? Do you have any questions about how to do something on Polyvore? Leave a comment below, and I'll be happy to help you out, as best I can.
Comments
comments