This year I was determined to do a backyard makeover. I was tired of never using it for entertaining  because we didn't have a very enticing place to sit, or hang out.
I wanted my backyard makeover to finally be somewhere we would want to go hang out. Right now it just looks like a junkyard with wood fences. We need color and organization right away.
We already have a gorgeous teak table and 4 folding chairs that my parents gave us last summer. I just need to replace the umbrella, sand it and finish with teak oil.
We never use our small concrete backyard because it needs to be totally gutted, and it is funds we don't have. It's time for me to embrace what I have, and so with a limited budget I am set to give my backyard a makeover it is desperate need of.
Last year my older brother game me a gazebo-like canopy. The overhang looks like the Undercover Canopy. I decided that I would use terra cotta pots, with sand inside to act as a weight to put the legs in. I'm going to fill the pots 3/4, and then put soil on top with seeds to have flowers. This project is something the kids can do and will be a little decorative addition.

The solar lights I have are 3 of the Litex White Solar Hanging Deck Light, and the Garden Treasurers Patio String Lights. I used these to set the tone of my outdoor seating area.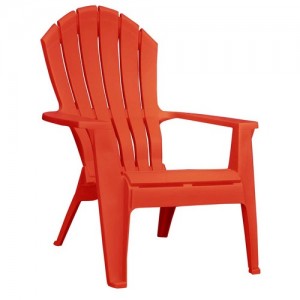 Adding 4 Adams Red Adirondack chairs begin to add color to the backyard. Being plastic they'll be easy to clean. We have had an outdoor bin for the kids outdoor toys for about 2 years, so I had the idea of using it like a coffee table, and it would still be able to hold all of the kids outdoor toys. We have no plants in the backyard, or sprinkler system.
I want something climbing up the back fence because I really don't have much space to plant between the concrete and fence. However putting sprinklers in there would be a large waste of water. A drip system though can be done so many different ways with different sprinkler heads it would be perfect for minimizing water. I got something like the Raindrip Low Volume Sprinkler Kit.
Making holes in the tree stump in the corner to put small succulents in there is utilizing something we can't remove right now, and gives a funky factor. Surrounding the stump with succulents means that we can use the drip system in the corner given that succulents need minimal water. I'm going to surround the succulents with redwood mulch for two reasons: 1) it is a great color and 2) it repels weeds. It is my low maintenance garden.
The Portfolio Bronze Solar Path Lights will illuminate the backyard at night with a soft glow, and the bonus was that they were buy 2 get 1 free. I love buying solar lights for outdoors because it doesn't require my paying more for electricity. Plus many of them are LED so that means they use very little energy. With the sun out here in SoCal solar lights are usable all year round.
I'm well on my way to making my concrete backyard an entertaining area with outdoor seating for relaxing. The adirondack chairs under the canopy will allow us to go out there and feel like we have a place to hang out, and even barbecue. Using the solar lights will give us beautiful lighting to even use the space at night. There's so much more I'm going to do, so stay tuned for part II of this makeover. I've only shared some of what is going on.
Lowe's supplied me with the funds to purchase most of the supplies. The above is my own opinion swayed only by my inner Fashionista.
Comments
comments