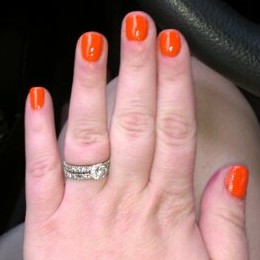 One of my favorite nail polish collections this season is Essie's Bikini is so Teeny. This summer polishes are neon, light pink and pina colada looking. Essie picked out colors that fall under all of the categories effortlessly.
My first nail polish color to try from this vibrant collection is Fear or Desire. Fear or Desire is a orange nail polish color that looks more neon in the bottle then it does on my hands. As a matter of fact I would say the color is more like the orange fruit.
I was concerned about orange with my uber white skin, but the shade is so much deeper then I thought it would be, that I really like it. I put it on my toes too, because with all of the toe shoes I'm wearing I thought a fun color would look great.
My biggest issue right now is: which color will I get next?
I was given a free product or sample because I'm a Klout influencer. I am under no obligation to receive the sample or talk about this company. I get no additional benefits for talking about this product or company. The opinion above is my own, swayed only by my inner Fashionista.
Comments
comments