Many people have a very hard time keeping all of their receipts because they aren't sure what to do to actually keep them. At the beginning of the year we begin with resolve to save our receipts and keep them organized.
However, now it's June, if you're having issues keeping the receipts together I have some tips on how to make it easier through the end of the year.
I know it's been some time since my last installment of From Zero to Organized, but as we all know the days can slip by all too easily when your so busy. I hope that you were all able to at least wrangle those e-mails and start a calendar and to-do list.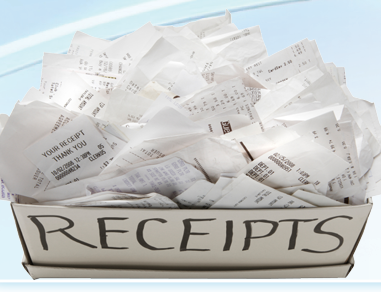 Today's post is about keeping your receipts together. If you're like me and have a personal business every receipt both for money spent and money received is a big deal  when it comes to taxes. Keeping track of them is hard, and often times you can lose those receipts.
Where To Put Receipts When Out Shopping
Do you have a wallet with multiple compartments. I have the Hobo International Lauren Sonoma wallet, and have one little pocket that I put my receipts to keep. If you can I recommend you do this.
If the wallet isn't an option consider putting a ziploc bag or envelope in your bag, and mark it with the word RECEIPTS. This helps to make sure you at least put them together.
What To Do With Receipts In Your Bag
Once you get home you may wonder what to do with them from there. I usually empty out my wallet about once a month of those receipts. It's at that time I write on the back what it was for. I highly recommend that you do this because when you do your taxes a non descript receipt will be of no help to you.
You have several options when it comes to how to file the paper receipts:

Scan the receipts to your computer, and save them in either: a special folder on your hard drive, in your Dropbox or Google Drive. If you don't have a scanner you can find them for fairly cheap all over. Now you can buy most 4-in-1 printers with scanner features. Due to the fact that R has to scan a lot of documents for work we have the NeatDesk Scanner on top of our 4-in-1 printer because of the clarity of the scans. It has a slot specifically for receipts. This certainly is much more than you need if you're just scanning receipts.
If you don't want to spend money on a new scanner? That's OK because you can always add the CamScanner app to your Droid Phone/Tablet or iPhone/iPad. There is a free and paid version. I use the free version all of the time. You use the camera on your phone to take a picture, then you crop it, and save it as a .pdf. If you don't want to store it on your phone you can send it to your Dropbox or Google Drive to be housed there.
Get a receipt holder, and use the dividers to categorize your receipts. When you are in a office supply store or office/school supply aisle at Target look for a Coupon Organizer. They are also small enough that you could carry it in your bag instead of an envelope or ziploc bag. This makes it even easier because you've eliminated a step in your process.
Where To Put Electronic Receipts
You may remember when I talked about organizing your e-mail that I mentioned having special folders for receipts. Now that you are well on your way to e-mail organization adding 1 or more folders to place all of your digital receipts will be easily added and utilized. The folders I have are like this:
The first one is for just regular shopping receipts/confirmations. Instead of clogging my inbox with every receipt for every single thing I buy, I just put them in my Shopping Receipts folder under my Family Stuff folder. Every 6 mo I go through the folder and delete any e-mails/receipts I don't need. That means most of them because after about 6 mo there's no need for me to keep them.
The other folder is for business receipts. I have a folder called 'Money In/Out'. Under that folder I have other folders, but the receipts go into a folder for it's corresponding year. Taxes are done by year, so in order to be able to find what I need come tax season I make a new folder every year. This year all business receipts go into the Money In/Out>Receipts 2012 folder (see right). When you get a confirmation of payment for anything business related via e-mail I simply move to this folder and don't worry about finding it when it's time for me to do my taxes.
Now imagine this: In January of 2013 you decide to put all of your receipts for 2012 taxes together, and an hour later you're done. Sounds really good right? Set the tone now for making your life easier later.  Organizing something like your receipts only saves you from major frustration in the future. Quite honestly as time goes on eliminating frustration in my life in any way I can has become more and more important.
How do you wrangle your receipts? I'm sure there are some great ideas out there, so please share.
Comments
comments